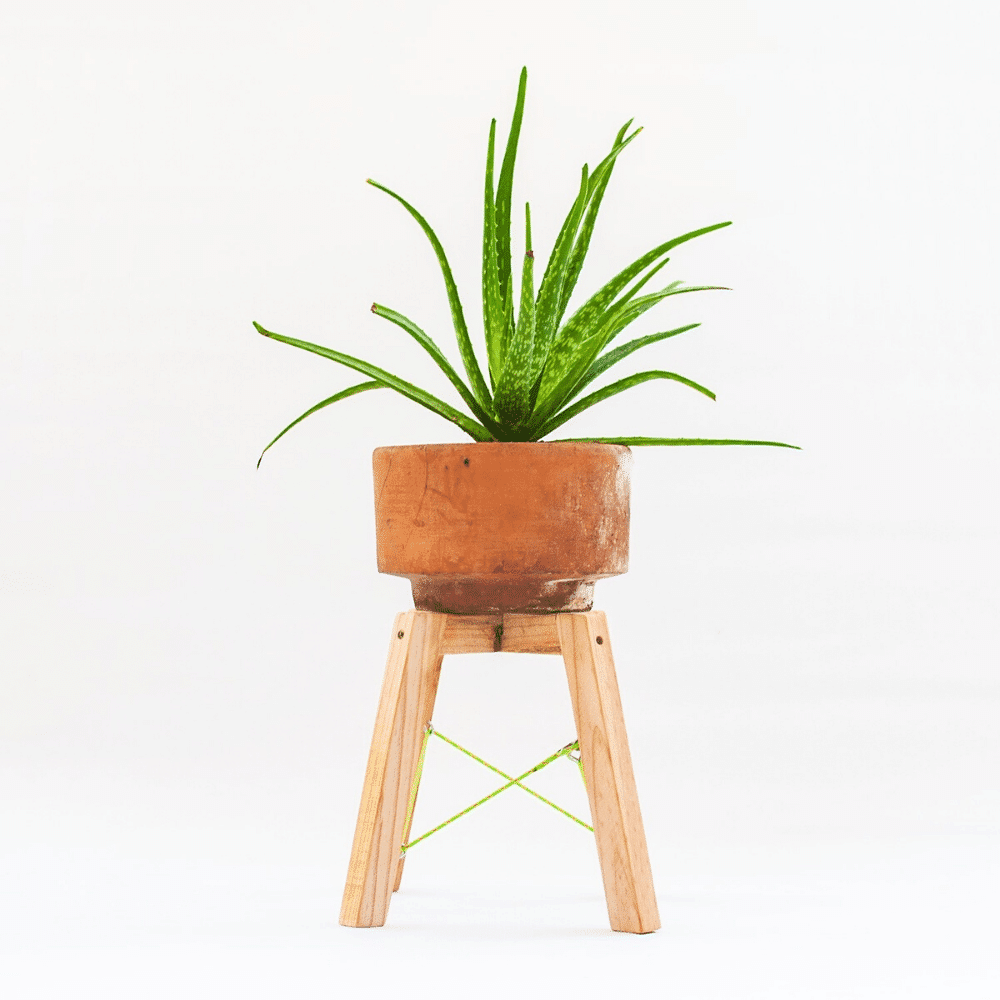 Using indoor plants for decoration is by far one of the trends that most inspires and passionates us. We truly believe that every home should have lots of pots to decorate and fill every corner with life. As feng shui says, plants make energy flow. Having some of them in your spaces will make them warmer and harmonic..
Therefore, here we show you 5 decoration ideas with indoor plants to inspire you so you can take full advantage of the incomparable benefits of including nature in your home interior design plans. But first, here we mention some of the toughest plants. They are succulents, ferns, anthurium, water stick, clivia, aloe vera, ivy, poto, lily and ficus.
1. Small plant pots for the details
Whether you prefer your plant simply to be a detail in the room or if you have little space in your home, small indoor plant pots can be a great choice. Furthermore, they require little care and attention compared to other options. In these cases, you should prioritize indoor plants that fit in these types of pots, such as aromatic species or succulents. The idea is to have more than one pot and that all, as a whole, create an image that is light, dynamic and tidy. For that you can combine multiple plant styles with different material and color pots.
In this sense, at Ekohunters we have two nice pots that we want to show you. On one hand, our modern and minimalist Planter. It's perfect to put on the table with a cactus in composition with other elements like candles or vases. This geometric design pot is crafted with recyclable concrete and it's available in grey and white.
On the other hand, inspired in the concepts of the ocean and the countryside, we have Horizonte pots made of stoneware. This organic material is lined up with the spirit of its design which aims to highlight the simplicity and freshness of the natural. They are ideal to use as a centerpiece, over a chest; or in a shelf along with other elements but imposing its strong imprint and functionality.
2. Tall plant pots: pretty and functional
If you want to make your indoor plants the stars of the room, you can use tall floor vases. You can put them in the hall, for thewarm welcome. Also you can put them in some lonely corner or near a window, becoming the room's visual point of attraction.
Finally, we cannot forget one of the most strategic functions that can have tall plant pots: delimitation of the spaces. For this occasion what we recommend is to choose pots lined up with the style of the rest of the room furniture to manteinrve the harmony and the unique look, unless you are looking to achieve the opposite.
In this sense, our Kolona plant pot, from INDI, is without any doubt an excellent option for your home. You can put both, tall and short plants, thanks to the extra internal shelf that comes with it. Here comes the best! The technique used for its production is named "Repaper" and consists in making everything from recycled paper. The final product resembles so much to concrete that gives us the feel that it weights like it, but in fact it is heavy as a feather. This is what makes it easy to move around. Also It's easy to combine with other elements of different styles thanks to its neutral style and smooth finished.
3. Plant pot stands and indoor plants
If you like the idea of giving a protagonic role to your indoor plants, but the tall plant pots doesn't convince you at all, another option for you are the plant pot stands. You can put one of them in the living room, for example next to the sofa; somewhere in the rooftop along with other plants; or in the most enlightened and ventilated place of your kitchen.
We love this alternative! The kitchen doesn't have to be completely filled with non-living artifacts and crockery. And what's better than cooking in the company of a plant that spreads harmony and joy? Of course, be careful and don't place it in areas with high temperatures or where there are currents of smoke.
At Ekohunters we have some nordic and modern designs which are easy to assemble that might interest you. They are crafted with solid pine wood with natural stains and wax finish for durability. First you'll find the Foldable plant stand, then the Small plant stand with 24 cm tall, and finally the Big plant stand with 42 cm tall.
4. The art of the hanging pots for indoor plants
You can also innovate by placing hanging pots on the wall, like a work of art in a museum. This is a great option for small spaces, because besides of taking up little space and not hindering the passage, the plant doesn't lose exposure. On the contrary, its visual presence is even greater.
A good option are small and simple nordic designs such as our Hanging planter. It's made of pine wood and treated with teak oil for greater protection. It should be noted its decorative versatility since it's thought to be a hanging pot, as well as a more conventional one, for example located on the floor or over the table.
If gardens and spices are your thing, there is an even more convenient option for you: the Big hanging planter. It is the perfect combination of decorativeness, functionality and health in a same concept. This hanging support, also created in pine wood, is ideal for small crops because of its size and design.
5. Vertical indoor gardens for small spaces
Finally, we want to talk about vertical gardens. By this, we are not referring to that well known walls covered with lots of indoor plants, but to some options that are less expensive, easier to take care of, and much more adaptable to tiny spaces. Because taking the calm and warm plants energy to your home shouldn't have limitations on any kind.
In first place, stackable pots. With them you don't only choose how high you want your vertical garden to go, but also you can create lots of different compositions by spreading all the pieces in different places and bet for an heterogeneous distribution. For example, the ceramic Gaia plant pot has 3 pieces, which can be placed one over the other and reach a height of 2.3 meters. This design is specially thought for aromatic herbs as oregano, mint, chive, rosemary, coriander and parsley among others. Imagine how nice and effective would be having it in your kitchen.
On the other side, we want to show you the favourite one of every person who doesn't have much free time. Because we are aware that decorating with indoor plants means to have an extra care and attention that can be a little complicated for those who doesn't have the necessary space in there routines, especially if there's a bunch of plants to look after.
If this is your case, the Citysens auto-watering vertical garden is all what you need. You change the water annually or semi-annually, and program the watering via WIFI and that's all, you don't have to worry about anything more than enjoying the growth of your plant and contemplating its beauty in your eco-friendly living room. In addition, its electricity consumption is only 0.2 € per year and the saving of water and nutrients reaches 50%. Find out more about this smart plant pot here!