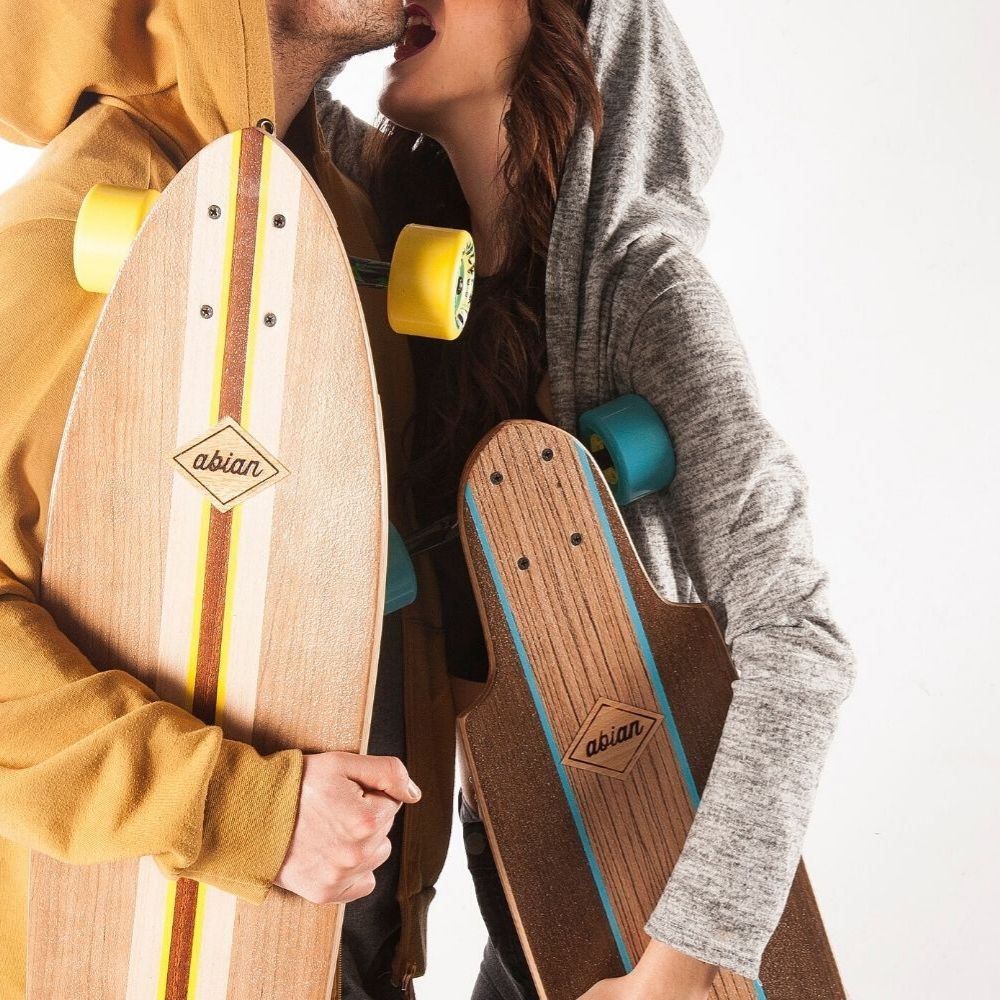 Eco-friendly Wooden Skate & Longboards
Abian Skateboard is 100% sustainable. From its workshop in the Basque Country, Abian shows that whatever activity we are planning to develop
it is necessary and always possible to carry it out with commitment and
responsibility, putting the planet and people first.
Today we talked to this young company cofounder, Arri, and about their skateboards and company.
What makes Surfskate and Abian's balance boards different?
Basically they are made one by one with dedication and love, that's
which you can appreciate by having one of our boards in your hands.
A good selection of quality, sustainable and organic materials
is the perfect cocktail for the creation of unique and 100%
sustainable.
Abian offers the possibility of carrying a unique Surfskate in the market,
exclusive and tailor-made and to the taste of the Client. The one who skates with an Abian makes a difference in style and philosophy, a totally local, unique, sustainable and differentiating product.
What is Paulownia and why have you chosen this raw material to
to make your skateboards? Is it a raw material certified and sustainable?
Paulownia is a wood of Asian origin that grows in the
swamps. It is the second lightest wood in the world and brings together all
the necessary characteristics to be able to build a surfboard. It's
light as I said, it flexes and is very water resistant. It hardly needs
maintenance, nothing more than a little flaxseed oil and to be
possible to shield it from sunlight.
For the manufacture of Skateboard the wood used is Birch, a wood that we bring from Finland with its certification of sustainable forest as it could not be otherwise.
Abían opens the door to his customers to make surfboards exclusive, unique and personalized. What is this? Is it a matter of aesthetics only or can people propose other changes in the design and manufacture of the skateboarding?
There are several ways to customize a Surfskate. There are those who ask us to pyrography with a name, phrase, dedication, to a standard model from the catalogue.
There are those who want a unique model made just for them,
some let us work under our own criteria and taste and others without
However, they prefer to do it to their liking, with the materials they
They select themselves, and with the combinations they like best. They are
models that never repeat themselves.
We try to always have some exclusive ones in stock, there are many
who call and want something special and different, out of catalog, every
more people are interested.
Another possibility, although not very frequent, is to change axles and
wheels.
And finally on a few occasions due to lack of time obviously we give you the opportunity to make your own Surfskate from scratch to the end of the process, starting from the selection of the material, gluing, sanding… In short, it is a spectacle to see the faces of people's satisfaction when they see it finished.
Abian promotes a productive model of proximity, local economy in
Does this mean that all your suppliers are equally locals? Do you also require this commitment from your suppliers when it comes to sustainability issues?
As far as possible we do, and if not locally at least national.
We select suppliers who are committed to the environment and the vast majority of them certify this to us.
The only thing that is not national are the components with which we ride the skateboards, some are brought from China, today most of the big brands like Paris make them there and they are not hide from saying it.
You carry out reforestation initiatives to compensate for the wood raw material. Are they local? Are they oriented to recover deforested or damaged areas? Do you collaborate with any other environmental initiative?
The woods we buy are all certified and are from sustainable forests. For every tree they cut down, they plant two so that the forests are continuously reforested, the certifications are credit.
We have a new project in mind that has left us with our mouth open and we want to get it up and running as soon as possible, but we'll talk about this later and I can tell you more about it.
Your surfboards are aimed at a very young audience. Do you realize that your target customers also have this concern for the environment and are more interested in the product because of this commitment to social and environmental sustainability?
It's not quite like that, our audience is very varied.
Young people obviously buy from us and the great majority if they are interested in our project, philosophy and way of working, is a product not much more expensive than we can find in the market but indeed whoever wants to buy it knows what is buying, in addition to a sustainable product is an exclusive and from here.
There are many people who surf, and of all ages, that is our audience. They surf on the asphalt on days when there is no waves, for lack of time or just to have fun in a bowl in addition to improving technique, exercising and more.
For the more classic, there are Longboards that offer a different from skating or the typical Cruiser that is great to move around the city, to work in short an alternative and very practical transport because of its size.
How does Abian planned the the future? Will we see new lines of products?new markets to explore?
Abian does not intend to stop, the market is very wide and always
open up a little bit for us, fortunately there are more and more of
those of us who really work for and in favour of changing our policy
productive, as long as there are people looking for closeness, trust,
quality we will be here, outperforming each other every day.
Soon we will have a website that will allow us to expand our market
European, there is a great interest and they like very much the ide
let's be from the Basque Country.
---
Abian is another example of the existence of non-disruptive production models with environment the planet and society, which as they themselves express, are an alternative project to globalization. Follow Abian Skateboard on Ekohunters and take a look at their boards. You'll love them!