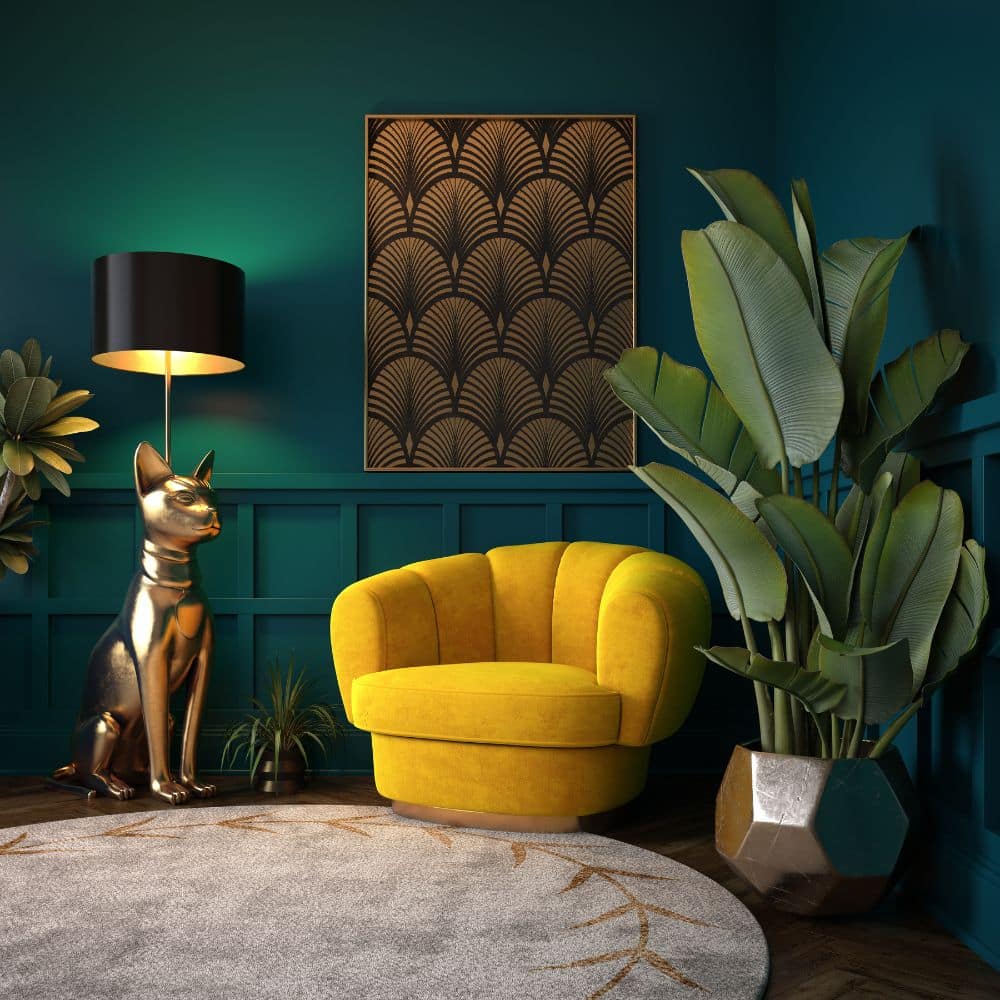 Contemporary to the Charleston and the explosion of Hollywood cinema, Art Deco style arrived in the 1920s to mark luxury, glamour and exuberance, encouraged by the marked progress that was lived at that time.
As we mentioned in the article "These are the 5 interior design trends 2023 that you should know", Art Deco was making its way in the last time to position itself in this 2023 as one of the 5 most important trends of this year. In this article we will tell you about its 5 main features so you can decorate your home in the best Art Deco style like an interior design professional.
Materials that denote glamour
As we have already mentioned, Art Deco was born at the beginning of the 20th century, where the socio-cultural context was tinged by the progress brought by the Industrial Revolution. That is why Art Deco reflects in its aesthetics this socio-economic growth, betting on materials and finishes that denote the good times and opulence that was lived at that time in the interiors of every home.
Shiny materials and finishes such as chromed steel, glass, wrought iron, copper, silver and gold are essential in any Art Deco space to reflect luxury and elegance in the home. Furniture covered in exotic skins was also common in this era, however there are textile options that denote the same glamour, such as velvet.
Geometric patterns and symmetry
Art Deco stands out for being the perfect balance between the baroque style and the minimalist style, as far as visual weight is concerned. Art Deco doesn't look to overload its spaces with elements like the baroque style, but neither does it pursue the "less is more" motto of minimalism.
Art Deco design found its own aesthetic impact in the modernity connoted by geometric shapes and symmetry, as opposed to the asymmetry and dynamism of its predecessor: Art Nouveau. And although many references can be its source of inspiration, the reality is that the geometric and symmetrical aesthetics of Art Deco comes from the inspiration taken from technology and machinery.
Contrast of colors
Undoubtedly, colorfulness is a key axis in the Art Deco style. A space decorated with this style must be attractive in every sense and a great tool to achieve this goal is the use of strident colors and the use of complementary chromatic palettes that stand out for their contrast.
We find in Art Deco interiors color combinations that generate a high contrast such as the combination of white and black and the combination of gold and silver. However, these are commonly combined with much more strident and bright colors such as red, green and blue.
Ornamental details
Art Deco design is also characterized by its ornamental details both in the exterior and interior architecture of the spaces. These details in the architecture of the spaces always have a common thread between the exterior and the interior, following the same aesthetic coherence.
A variety of patterns and details such as pyramids, stylized sunbeams, zig zags, among other geometric shapes, are some of the morphologies used by Art Deco in its architecture, taking inspiration from cultures such as Egyptian and Aztec, for its ornamental details.
Art Deco furniture
Although in the Art Deco design the angular lines seen in patterns such as the zig zag are very common, this style doesn't completely leave aside the curved lines. These are present in the furniture of any Art Deco interior, in morphological fan-shaped or circular designs so typical of Art Deco.
In turn, Art Deco is a style that incorporates in its spaces a dramatic and theatrical feeling, so the furniture is of utmost importance to generate that perception. Furniture with rounded corners, opulent upholstery, volumetric shapes, seats slightly curved inward suggesting intimacy and sensuality, are some of the inert characteristics of Art Deco furniture.
Art Deco design is back in 2023, not only to show us once again that fashion is cyclical, but also to remind us what luxurious and elegant interiors are. From Ekohunters we want to help you decorate the interiors of your home with the latest fashion trends like a professional, but always with the distinction of sustainability. That is why in our marketplace you can find the best selection of sustainable furniture for your interior design project based on Art Deco.