"Many small people, in small places, doing small things, can change the world" quoted the writer and journalist Eduardo Galeano, and it fits perfectly with the eco-green philosophy. If you want to contribute your "grain of sand" and promote a great change, in this article we will tell you 7 tips to have an eco-friendly home in a simple, sustainable and ecological way.
Separate waste
Throwing waste into the trash is a necessity in all types of homes. This tip encourages you to separate your household waste into 5 containers to be recycled: yellow (plastic, brik and metal containers), blue (paper and cardboard), green (glass containers), brown (organic waste) and gray (everything that could not be separated in the other containers).
Remember that there are also green or clean points in several cities around the world, these collect bulky garbage or dangerous garbage that needs special treatment.

Of course you can always save the aesthetics of your house while you turn it into an eco-friendly home. We show you in the image, for example, the Ecosmol Recycling Station that has adjustable compartments.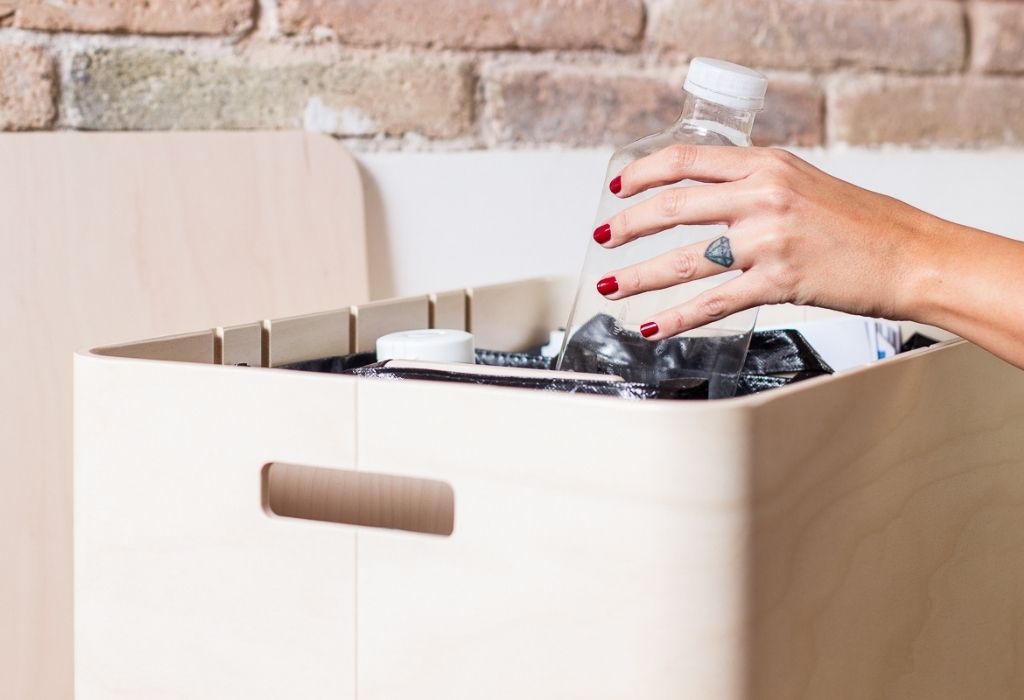 Take advantage of sunlight
If the natural lighting that enters your house allows it, sunlight is something you should take advantage of. Save energy and make your house an eco-friendly home by using the hours of natural lighting in your favor. You can use it for the activities you do during the day and even to naturally heat your space, turning on the artificial lights in your home only at night. The use of natural light could mean savings of up to 30%.
Led bulbs
Many times domestic energy saving isn't taken into account, because we tend to think that there are other larger household consumptions, but as we said at the beginning, we are talking about making small and simple changes in our home lifestyle to make our house an eco-friendly home, and this is one of them. If you haven't changed all the light bulbs in your home for LED lighting yet, you should know that it's estimated that they consume between 50% and 80% less than lighting with common light bulbs.
Unplug electrical appliances
Throughout our lives we learn to turn off appliances when we stop using them, because we believe that when they are turned off they don't consume energy, but this is nothing more than a myth. Appliances (such as the TV) consume energy while they're off and it's estimated that in this state they are responsible for up to 10% of the energy consumption of houses. This is because they're still connected to the electrical current. If you want to make your house an eco-friendly home, to avoid this consumption, you should unplug the electrical appliances when you stop using them.
Plants to purify the air
Looking for ideas to decorate with indoor plants has stopped to be a purely aesthetic issue to become something necessary in our lives. These not only remove harmful substances from the air, but also purify it through evapotranspiration and photosynthesis, and they're essentials for any eco-friendly home.
Air pollution inside houses has reached such a point that NASA has produced a report listing plant species with special properties to purify spaces. Some of them are: Pothos, Bamboo Palm, Sansevierias, Rubber Tree, among others.
A+++ appliances
The energy efficiency of an appliance is measured from A to D, with letter A being the most efficient level and letter D being the least efficient (the more efficient, the less consumption). At the same time, class A is divided into: A, A+, A++ and A+++ (A+++ being the most efficient). This measurement is represented in a graph that all appliances are required to report.

So if you need to buy an appliance and want to turn your house into an eco-friendly home, you should have in mind that between level and level, energy consumption drops by approximately 10%, reaching A+++, which represents consumption of less than 25% with respect to the class D.
Conscious purchase
Unlike household appliances, those who sell furniture still don't have the obligation to inform the user how eco-friendly or sustainable the product they are going to receive is. However, there are some things you can take into account to make a conscious purchase knowing how ecological or sustainable the product you want to buy for your new eco-friendly home is: percentage of recycled or reused raw materials, recyclability of materials and final product, use of renewable materials, toxicity levels, percentage of plastics used, among others.
Having information about the carbon footprint of the product that we are going to acquire makes us responsible consumers. This is why at Ekohunters we offer the user the Eko quality label. This measures the social and environmental commitment of the product to inform us how eco-friendly or sustainable it is, and is available in the description of each one. For example, by clicking on the image of the Naive Chair you can access its characteristics and see how our Eko quality label works.
At Ekohunters we believe in the "grain of sand" as an action that drives change and we invite you to add your own "granite" so that we can be many small people, in small places, doing small things and we can change the world.