The natural style in interior design is one of our favorite decorative styles for its warmth, its colors and the stories of its furniture. Mother Earth is its main inspiration and natural materials are what make it possible for ideas to materialize in wonderful products that are icons of sustainability. In this article, we will share some of our sustainable chairs with which you can create a dining room or living room for your home, office or hotel with all the benefits of this decorative style.
What are the characteristics of the natural decoration style?
In the natural style, unlike other decoration styles, the furniture has a strong connection with the concept of ecology, authenticity and exclusivity. A natural chair features materials that respect the environment, is not too affected by treatments and has a unique personality, since there are not two like it. The furniture, for example, made with wood, has details in its design such as veins, knots and textures characteristic of each particular tree.
It's a decoration style in which soft, sustainable and welcoming environments are achieved and, if possible, they're full of light. Furniture with colors such as earth tones and whites are chosen and plants are added with their contribution of the color green. In relation to the most used materials in natural furniture, the protagonists are natural fibers such as wicker, bamboo or jute, among others, and wood.
The dining room: A sacred meeting point
Meet, share, make decisions together, debate and dialogue. These are activities that have always been carried out by all the civilizations that preceded us, including ours, and that mean a special event in the lives of all people.
Therefore, it's important that we take care of this sacred place, which is generally found at lunch or dinner moments, on a table and the chairs around it. Think of the dining room as a special place: choose comfortable furniture, encourage warm decoration and turn this room into a cozy space with natural tables and chairs, so that those who have the pleasure of living in it can relax and enjoy a moment of connection with the others and with nature, a connection full of health benefits.
Sustainable chairs for a natural dining room
We would like to share with you some perfcet sustainable chairs for any natural dining room. Woork is a chair made from oak wood and laminated cork. Both materials come from the same family of trees, Quercus, hence their harmony by merging in this exceptional design. Its basic shapes and functional curves result in a modern design that in turn makes it an optimal chair to be combined with other furniture of multiple decoration styles beyond the natural, without neglecting its warm and original contribution. To ensure the firmness and solidity of the design, the sustainable Woork chair is finished with a resistant finish.
As we mentioned before, natural fibers are, along with wood, one of the most common materials in natural-style furniture. In this sense, we present you Tagoror, a delicate sustainable chair, with precise details and an authentic aesthetic. Its seat and structure are made of solid wood with rounded edges for greater comfort and its backrest presents a fabric stretched in an artisanal way with braided paper threads. And in case it doesn't seem sustainable enough, let us tell you that the wood used is 100% certified, this means that it comes from sustainably managed forests (PEFC & FSC). In addition, the wood with which these sustainable chairs is made is finished with water-based stains and linseed oils without volatile carbon emissions.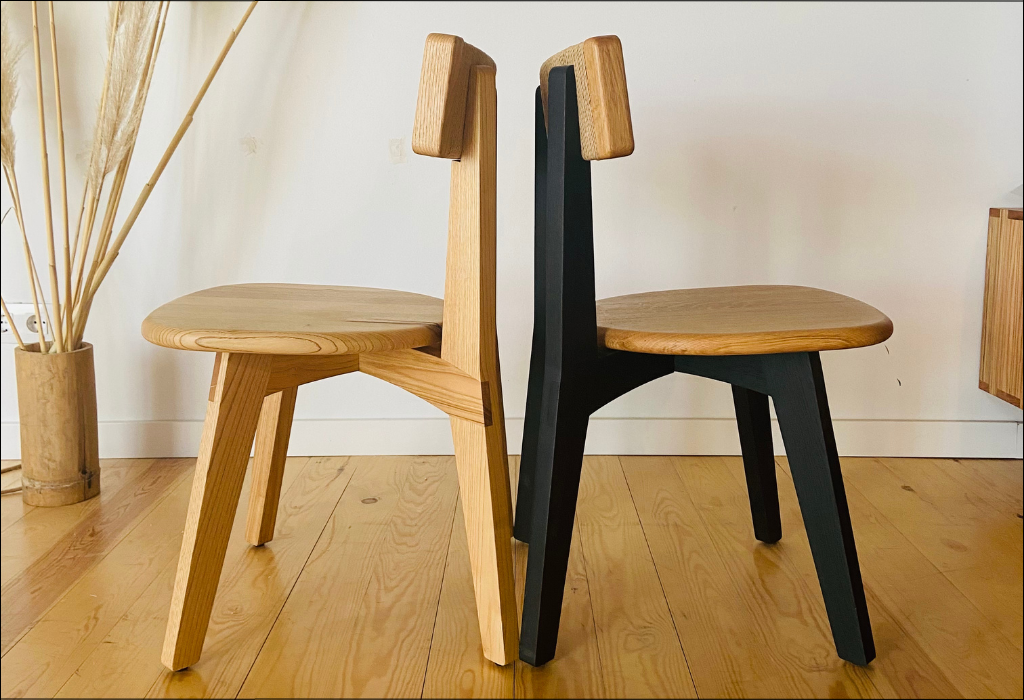 Muros is a sustainable chair made from chestnut wood with a complex and exclusive craft creation process. With a dynamic look, Muros is characterized by its modern style, its clean forms and its subtle elegance. A design where nature is given maximum prevalence, exploiting the limits of the material and creating a distinctive piece.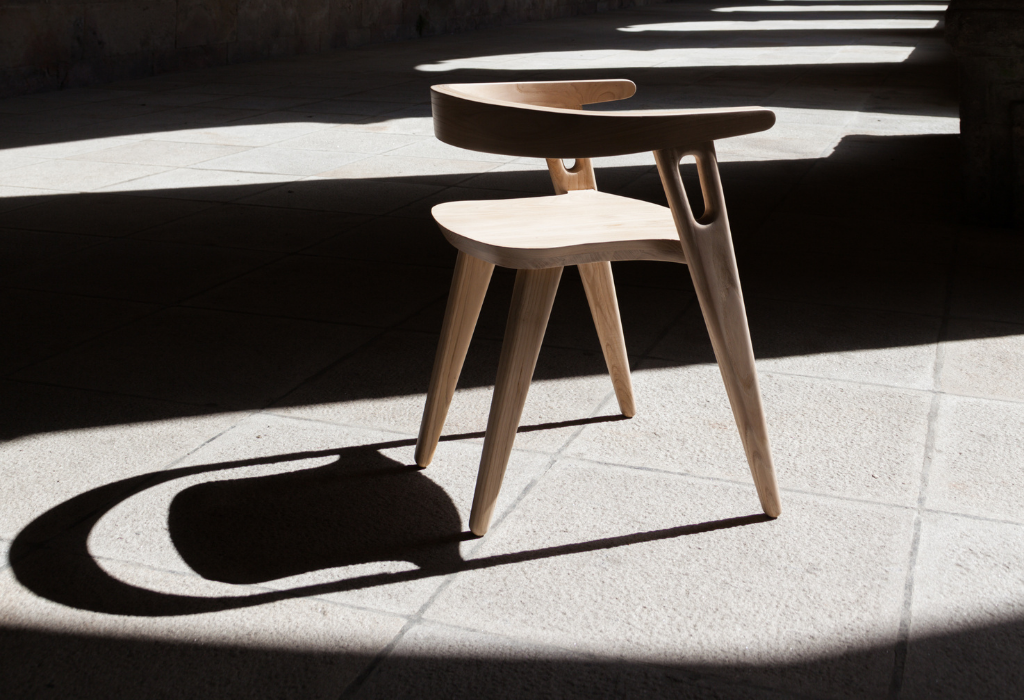 Choose sustainable furniture and you'll always be right
Choosing a natural decoration often implies choosing sustainability, if the materials, processes and logistics of the products are oriented to that goal. That is why we encourage you to choose this style and browse through the section of sustainable chairs that we have at Ekohunters where you can even see the level of eco-effectiveness of each chair, and also through the section of sustainable dining tables where you'll find many designs that match the chairs that we have presented to you. At Ekohunters we've everything you need for the natural dining room or living room of your home, the office or the sustainable interior design of the hotel. Find out by yourself!