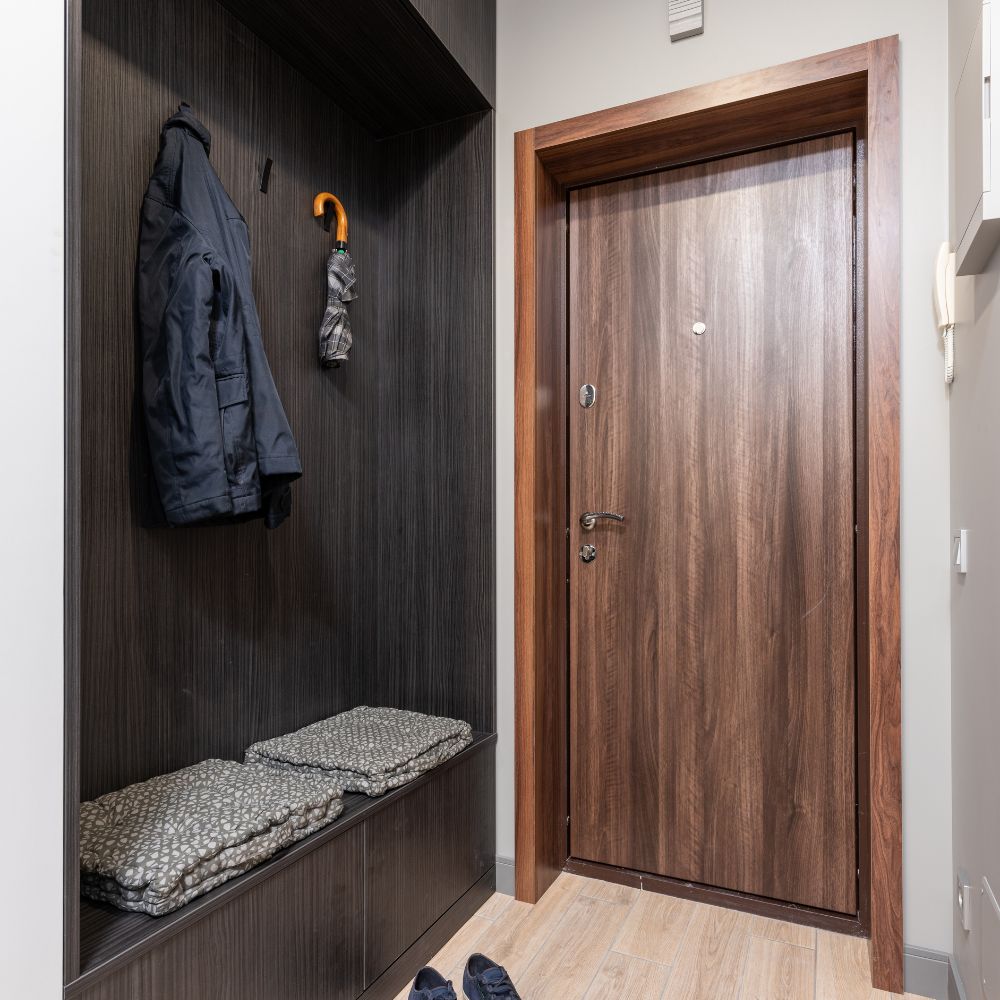 Also called vestibule, reception or entrance hall, the mudroom is the room located at the entryway of each house as a transition space between the exterior and interior. In this room, we can leave the clothes we leave with and disinfect ourselves to enter our home.
With the 2020 pandemic, the mudroom has become a trend in the interior design world and is one of the most requested spaces in the house when hiring a decoration service. So, if you want to know more about what a mudroom is and design the style of yours like a professional, stay reading, in this article we will tell you all the ideas you need to know for this room.
What is a mudroom?
Originally, the mudroom was a space used in a farmhouse, where the people had to change their shoes with mud in your entryway so as not to dirty the floor inside the house, or in places where the temperature between indoors and outdoors changes significantly, so they use this transition space at house to keep their coats close by.
However, the mudroom has passed as an unnoticed space in a house design until the arrival of the pandemic in 2020 where, thanks to the recommended protocols, has taken prominence in all homes worldwide as a room where we can leave everything coming from outside and thus enter our home clean and disinfected.
Nowadays it is common to hear tips and ideas on how to design a mudroom decor in a functional and aesthetic way. Below, we will show you different ideas of furniture that you can include in this space and make a good first impression of your home to your visitors.
Mudroom decor in small spaces
If you live in a small apartment, it is likely that your home doesn't have much space for a mudroom area. However, this doesn't mean that you can't design a mudroom style adapted to the characteristics of your home. Keep in mind that the most important thing in a mudroom decor is to have a support surface to place small objects that we need to have at our fingertips when we go out (such as keys, wallet, alcohol, etc.) and a piece of furniture on which to hang coats at the entryway. You can also paint every wall of the room white and you will see how much larger your mudroom will look.
Therefore, the Totem Utility 600 shelf is one of the ideal ideas for a small mudroom space. This product is a 2-in-1, it provides the necessary support surface to place keys, alcohol and other items needed in this type of room and, at the same time, it has a design that allows hanging clothes if required. The best thing is that this type of furniture can be placed on the wall 's room without blocking the circulation surface on the floor.
Taking care of the details of your mudroom design
Loyal to its origins, the mudroom continues to be an entryway space where, mainly, the shoes that we bring from outside are left to rest until we go out again, so as not to dirty the floor inside the house. To meet this objective, and if you have space for this type of room, one of the ideas you can incorporate is storage or support furniture to organize them so that they don't form part of the visual noise of the space and your mudroom looks much more aesthetic, clean and tidy.

In this case, you can place the Ekohunters shoe rack under the coat rack of the room, where you place your coats, or under the support surface where you can place your pocket items. In this shoe rack you can arrange your shoes in such a way that they aren't scattered in your mudroom floor, creating visual noise and even causing accidents.
A functional mudroom design for your home
If you have space in your mudroom, another type of furniture you can use is a seating surface like a bench (and it would be even better if it had built-in storage). Seating and storage furniture is very useful for sitting, changing and storing shoes comfortably in the room. In addition, try decorating this bench or any type of seating surface with cushions and a blanket and you will get a comfortable, aesthetic and warm mudroom and you'll see the difference.

The correlation bench and storage, in addition to providing you with the necessary seating surface, also has an internal storage space. With the correlation bench and storage you will be able to make the most of your mudroom and store your shoes or other clothes inside it until you need them to go out again, and you will also get the perfect seating surface for your space. Also, this bench has the possibility of being assembled with more modules, adapting to the size of your space to perfection.
Functional decor for your mudroom
One of the ideas you can't miss in your mudroom style, is to put a large mirror on the wall. Mirrors are often thought of as simple decorative objects. However, the use of mirrors in decoration, depending on how they are placed, can even give the visual sensation that the space is larger. Even, based on feng shui, mirrors have the power to redirect and enhance the energy that enters our home.

However, if you don't need to give a perception of spaciousness, nor do you share the beliefs of feng shui, placing a mirror (such as the Dew mirror) in the entryway room 's wall is always one of the best ideas, especially to have a last view before going outside. The Dew mirror, in turn, is perfect for a small mudroom style as it has the ability to hold small objects such as keys.
After the pandemic, the world of interior design underwent major changes. The spaces in the house, like the entryway room, have changed their functions as much as the needs of society have changed. That is why it is important to adapt our home to us and not the other way around. In Ekohunters you can find everything you need to make your home spaces, such as the mudroom, evolve with your needs and ideas, in turn, also change according to the care of the environment.