If you're thinking of setting up a cooperative workspace, also known as coworking space, or your house is small and several family members need to do home office work, or even if it's just you but you need a space that you can use as an office but at the same time as a dining room, this article is what you are looking for. In it we show you some of our best office tables with an extra bonus, they're all sustainable.
What every office needs: a large table
One of our perfect office tables for coworking spaces is Adoufe, a table with a visual strength that is really characteristic. It is a delicately crafted piece of furniture, with a beveled perimeter at its corners that gently disappears towards the center of the table.
Adoufe has two symmetrical legs made up of wooden slats, with the same finish as the table surface. This gives this office table a solid structure.
This wooden table is perfect for coworking spaces as it can be 100% customized. It can be as large as needed, even in such a way that up to 2 computers can be placed facing each other on the desk, optimizing the space as much as possible but still in a comfortable and healthy way. Knowing the number of people who will need to use the desk is extremely important, so before purchasing an office table, remember to keep this in mind.
Also, it is suitable as a dining table, has a modern and elegant style and is available in up to 3 different types of wood: Galician Pine, Australian Acacia and Portuguese Cypress. Each of the woods has specific properties that will make the tables look one way or another. We invite you to read about it here. In addition, its base can be customized with materials such as iron, sheet metal or glass.
Gurrea: office tables as warm as wood
It isn't news that working in a natural environment provides calm, well-being and even a higher level of productivity than in environments where colder materials predominate. That is why we want to introduce you to Gurrea, nature at its best, a piece of furniture made with oak wood and iron.
Gurrea is a desk that conveys the value of functionality with the beauty of simplicity and the touch of warmth that characterizes wood. A unique sustainable piece, with selected raw material and manually treated. It's a table that is inspired by nature and aims to find a harmonious balance between past and present, and to be a healthy link between the environment and people.
Oak wood has a density of around 700 kg/m3, this makes Gurrea strong and durable furniture that doesn't deteriorate easily, a very significant aspect considering that these types of desks are heavily used.
Office tables with space for cables
We've talked about how important it is for coworking offices to have spacious desks and the benefits for productivity, well-being and environmental level they bring. Finally, we want to mention another aspect to take into consideration with this type of table: the space to put the cables.
Sooner or later the time comes when the laptop runs out of battery. By then you'll appreciate having a practical solution that allows you to connect the laptop to the power source. This will not be a problem if the table has one of its sides against the wall or if those who work on the table do it only at one side, since running the cables behind the computer and letting them fall to the floor will not disturb anyone . But if the table is used on both sides, it may be a problem.
Mady office tables are wide, made of wood and have two sockets at they ends that allow cables to pass without any problem. These desks are made of redwood, one of the most exclusive materials of its kind.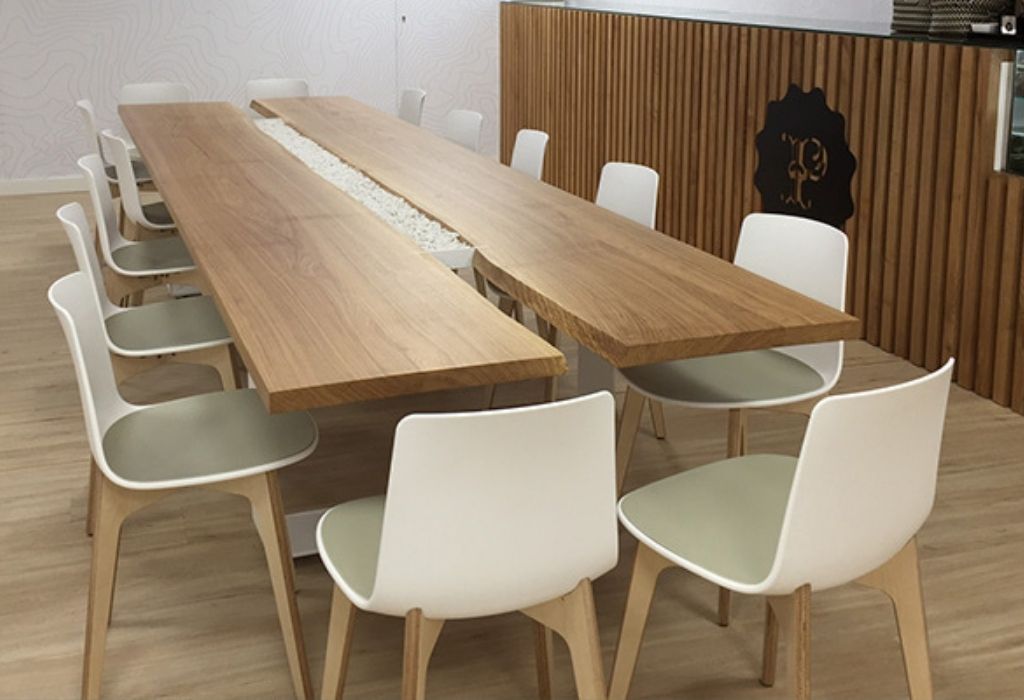 More office tables designs
Remember that you can see more office table designs in the section of our website that is entirely devoted to it by clicking here, where you can even filter them by measurements, materials, price, country of manufacture, among other available filters.