Mirrors are a key object for any style of decoration in homes, hotels, shops and restaurants. We no longer expect to see them only in the bathroom but in the most unexpected places. We no longer ask for functionality only but also to decorate, create optical effects and transmit special sensations.
The decorative shapes of the mirror, its function and its potential make this object as essential as windows, doors or furniture such as tables. However, decorating with mirrors is not as simple as may seem. Sometimes, they're placed in impractical spaces and it isn't possible to get the most out of them. For this reason, in this article we share some ideas and tips on how to decorate interiors with mirrors.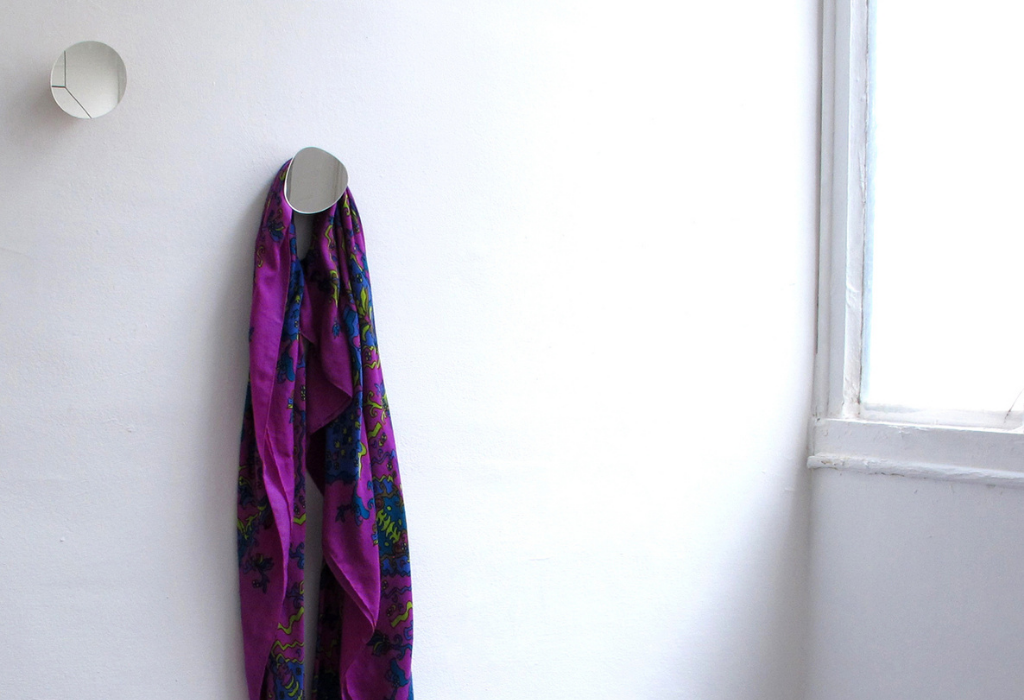 Our 3 benefits of mirrors in decoration
Among all the benefits that we can mention of a mirror we will focus on three. First of all, its ability to generate a feeling of greater spaciousness, which is key especially in small interiors. For example, if it's placed on the floor and slightly tilted, the ceiling will look higher.
Secondly, a mirror strategically placed close to a source of natural light will reflect it, bringing more light to the interior. Finally, its decorative role helps to strengthen the aesthetics and the style of decoration that you want to impose in a specific space in line with the other pieces of furniture.
A round design wall mirror
The round design mirror has been a trend for a long time, its appearance transmits modernity, dynamism and expands the space in a tubular way. In addition, this type of mirror manages to adapt to almost any style of decoration. In this sense, take a look at Dew, a collection inspired by dew drops, a poetic design with a soft aesthetic. The best? Dew is available in three different sizes, allowing you to create dazzling asymmetrical compositions by placing more than one on the wall.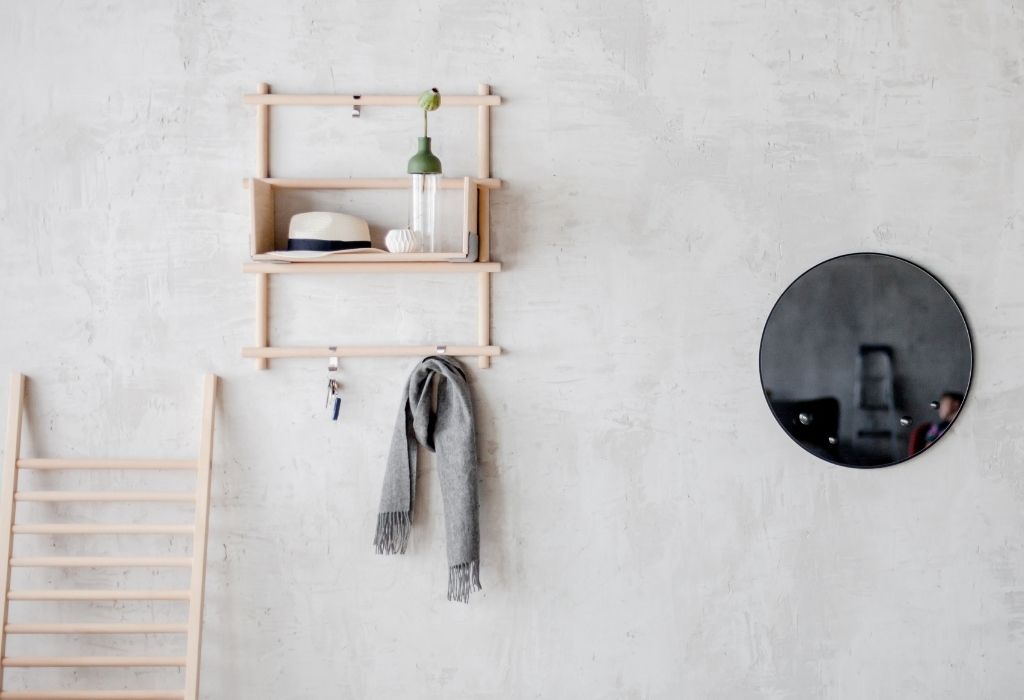 It will also make sense to decorate with two or three of these designs of the same size, for example if there are two sinks in the bathroom or putting them at the head of the bed. The smallest ones can also be used to make compositions on the wall with several grouped and even combined with other elements such as paintings. The mix results in a very dynamic wall.
Remember, the mirror is the most versatile when it comes to decorating round, so feel free to decontextualize it and place it in unexpected rooms, you can even take it off the wall and simply put it on any surfaces, for example, behind the sofa in the living room or on a chest drawers of wood. The result will be original and certainly eye-catching.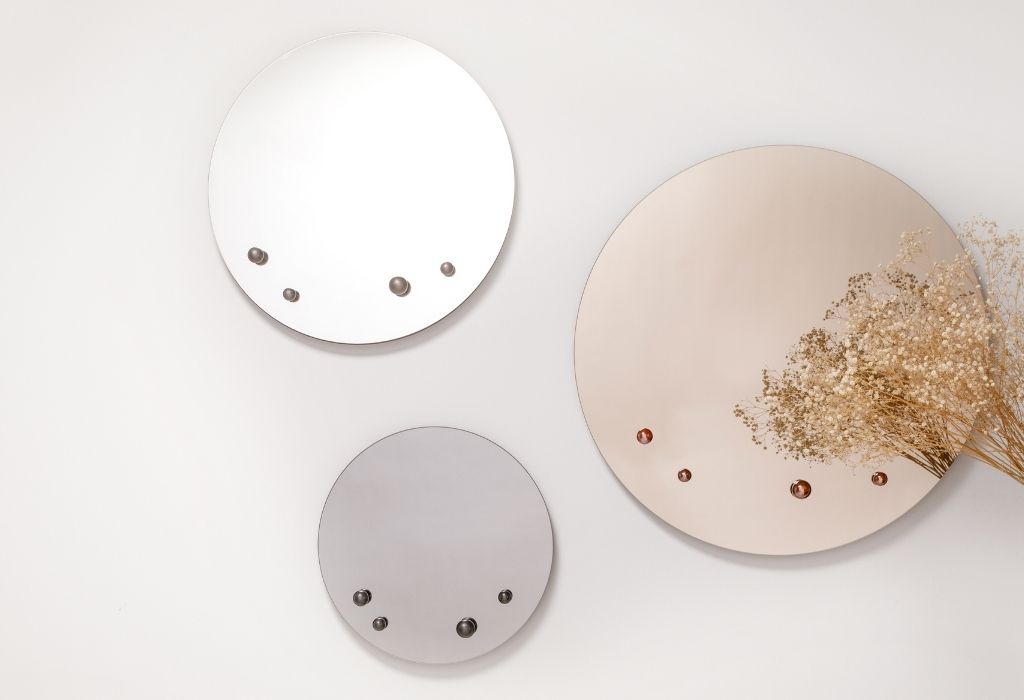 Welcoming in the hall
The hall, whether in a store, a hotel or a home, is one of the places where you can get the most out of the mirror. Surely you have in mind the typical rectangular mirror that rests on the wall, where you can see yourself before leaving home. Here we come to propose other designs more oriented to their function as hangers with the unique decorative touch that the mirror gives them, which seek to generate that first good impression on everyone who enters the space.
Moonlight is a hanger, mirror and shelf. It's a delicate design made of solid oak wood. Hang your keys and coats on it and enter the home with only a light spirit. Not only its curved and elongated mirror makes it highly decorative, but also the possibility of placing objects such as small pots or sculptures on it. A modern and natural looking minimalist wood design. Of course, it could also be in other spaces, such as in the bathroom of the home, as a hanger for robes and towels.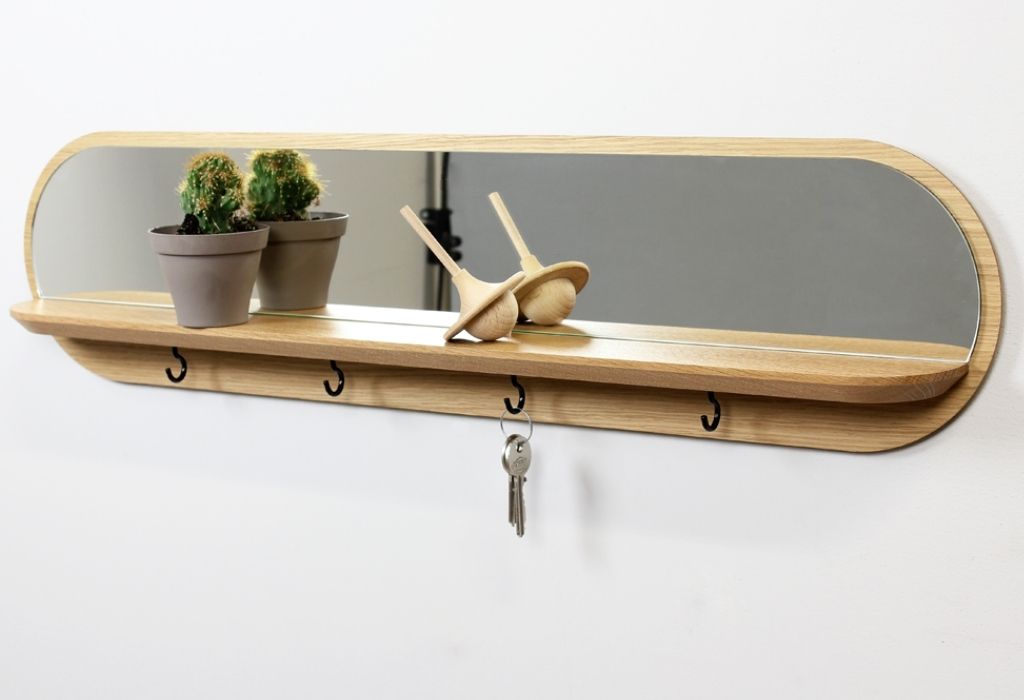 Bolet is a hanger design that includes two small asymmetrical mirrors that work as hooks when placed on the wall. Made with beech wood, with the Bolet hangers you can choose how high off the floor to position them and what distance to leave between them. Unlike Moonlight, where the optical effect sought with the mirror can only be the reflection of the objects that are placed on the shelf, with Bolet we suggest that the hangers are placed at eye level, so that whoever approaches them, becomes part of the dynamic game of mirrors.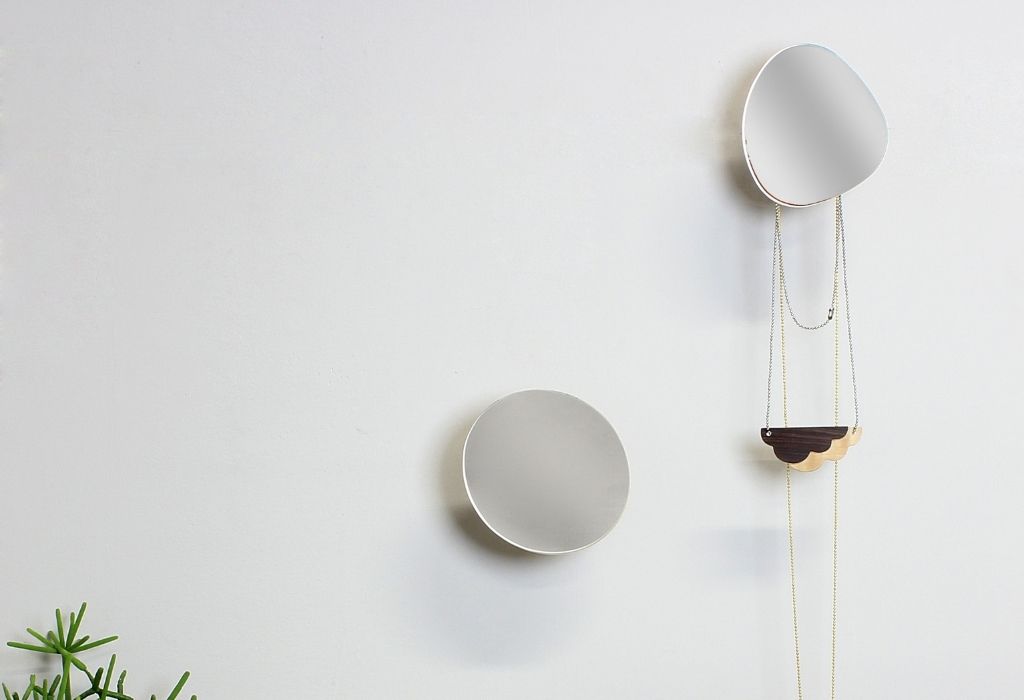 The hall is a space conducive to stabilizing order and without the presence of many pieces of furniture, this is another reason that makes this space one of the best for placing mirrors. What is reflected in the mirror must be minimalist, harmonic and beautiful. Therefore, avoid placing them in places such as a storage room, a kitchen full of utensils or a messy bathroom.
Our mirrors
We invite you to visit the section of our marketplace that we have especially dedicated to mirrors with the added bonus that all of them are sustainable in terms of raw materials, production processes, logistics and many other aspects. Without a doubt, decorating with mirrors, beyond the bathroom, is a success, just as we're sure it's to do so by choosing environmentally responsible designs. Remember that our whole marketplace is full of sustainable furniture and that in its descriptions you can read about its ecological qualities. Happy green shopping!