When your home also becomes your office, it's essential to have some products that ensure comfort, practicality and health when working. In this article, we guide you on creating a comfortable and sustainable office with objects made with environmentally friendly materials.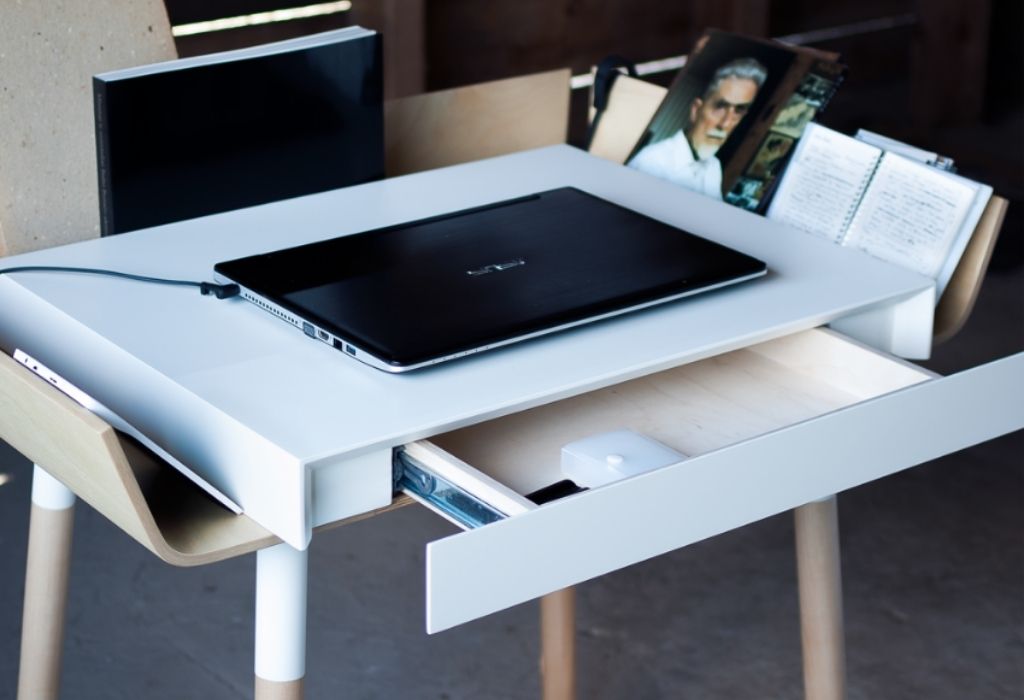 First things first: the sustainable desktop
There is no office without a desk where you can place your computer, tablet or notebook, among all the other accessories that accompany you while you work. In this sense, it is important to consider how much space you have in the room chosen to become a studio.
If there is enough space, it will always be a great idea to invest in a large desk. It allows you to work comfortably, accommodate multiple accessories along with the table, and even make sector divisions: the reading one, the area for the computer work or the writing one. In addition, it could be helpful if more than one person works at the same time in your home.
For example, the Gurrea desk measures 200 x 100 cm and is made of oak wood and metal, making it a table with a high level of resistance and durability. Or meet the Adoufe desk, with a dimension of 220 x 105 cm, fully customizable in terms of the wood type and base type, as well as the measurements.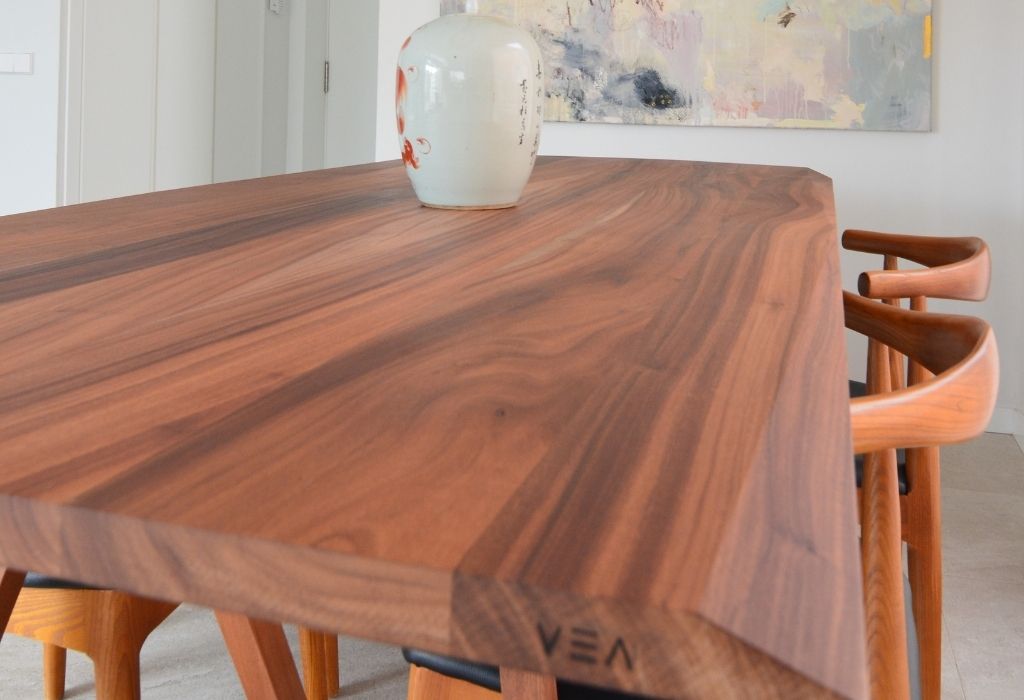 If, on the contrary, the space you have for your sustainable office is small, bet on options such as the My Writing desk made of ash wood measuring 78 x 88 cm that, in addition to including a drawer, has a storage space around the table, a great way to get the most out of a small desk. Also, the items will never fall off the table!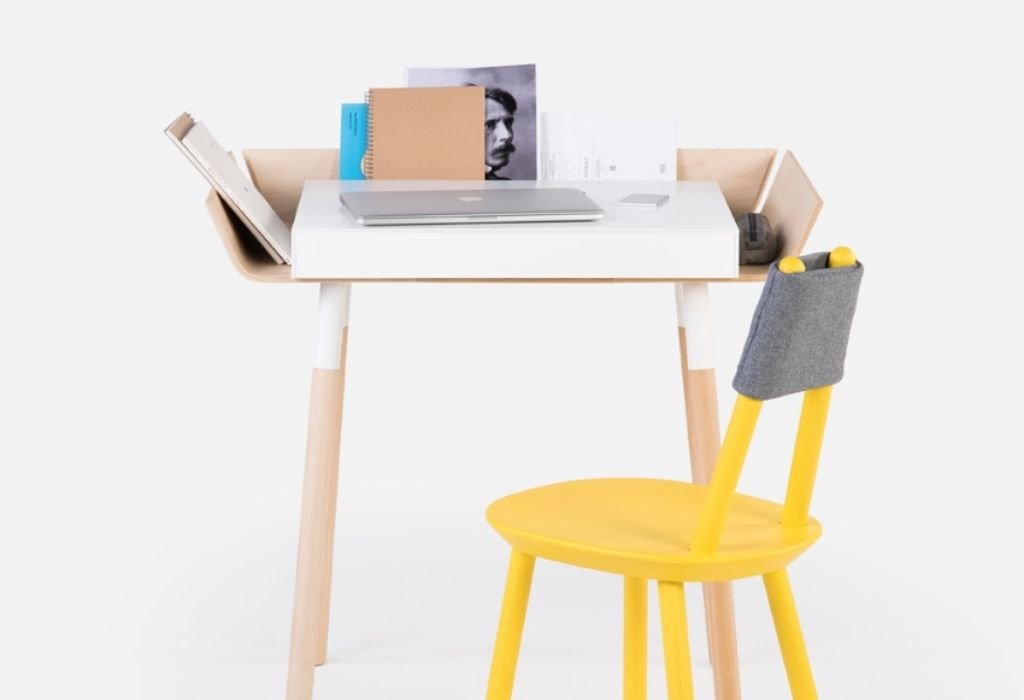 We also have a particular option if you need to set up a temporary sustainable office and then turn that same space into a dining room or workshop: Folden. This is a folding desk made of certified birch plywood with internal storage space. Don't you think it is practical?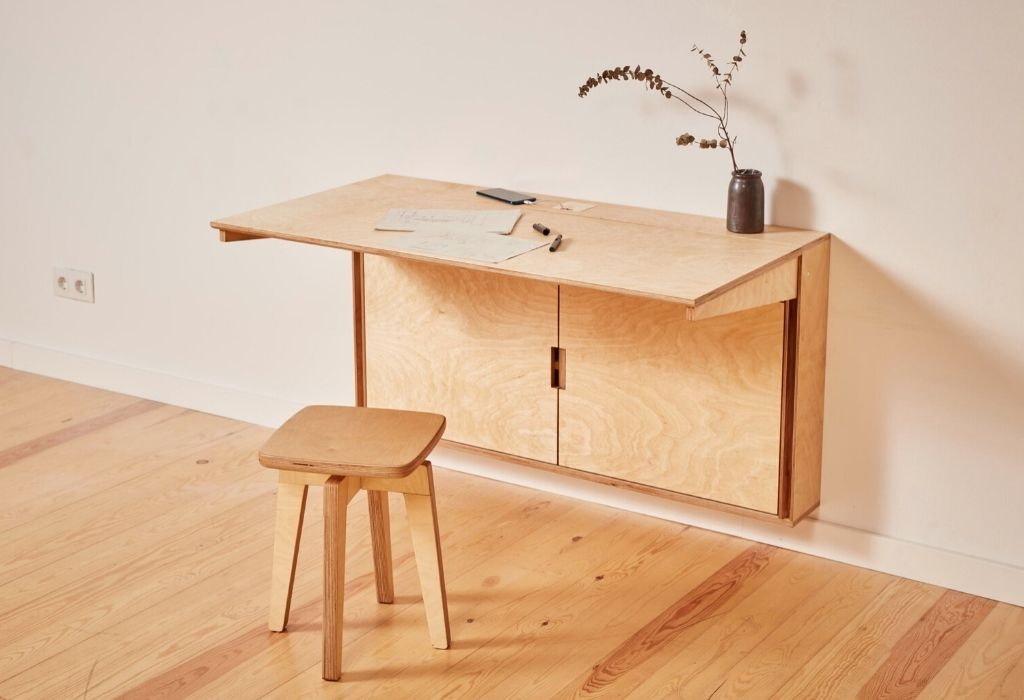 What you need for a sustainable and healthy office
If you spend long hours in front of the screen every day without being well equipped, you must have already realized the physical consequences of it. It's crucial for the health of the body to have the tools that ensure an ergonomic posture. This includes everything from desk chairs to device stands.
For example, Debridge is a stand to raise the desktop computer screen to 11.5 cm in height. In this way, you avoid having to tilt your head, accumulating tension in the neck. This design has three storage spaces designed so you can keep your desk always tidy.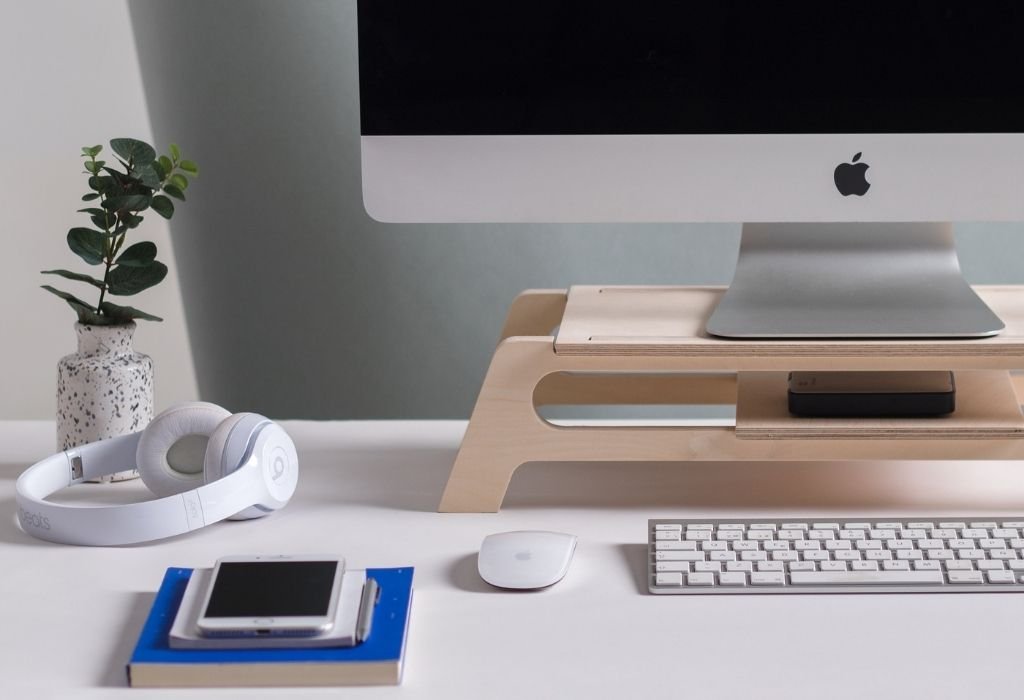 If the device you use to work is the laptop, what your sustainable office needs is Debeam. It's a stand that raises the screen to a proper height for the vision and at an inclination that facilitates a healthy posture for both the back and the hands. It's a lightweight and demountable design that you can easily move from one place to another.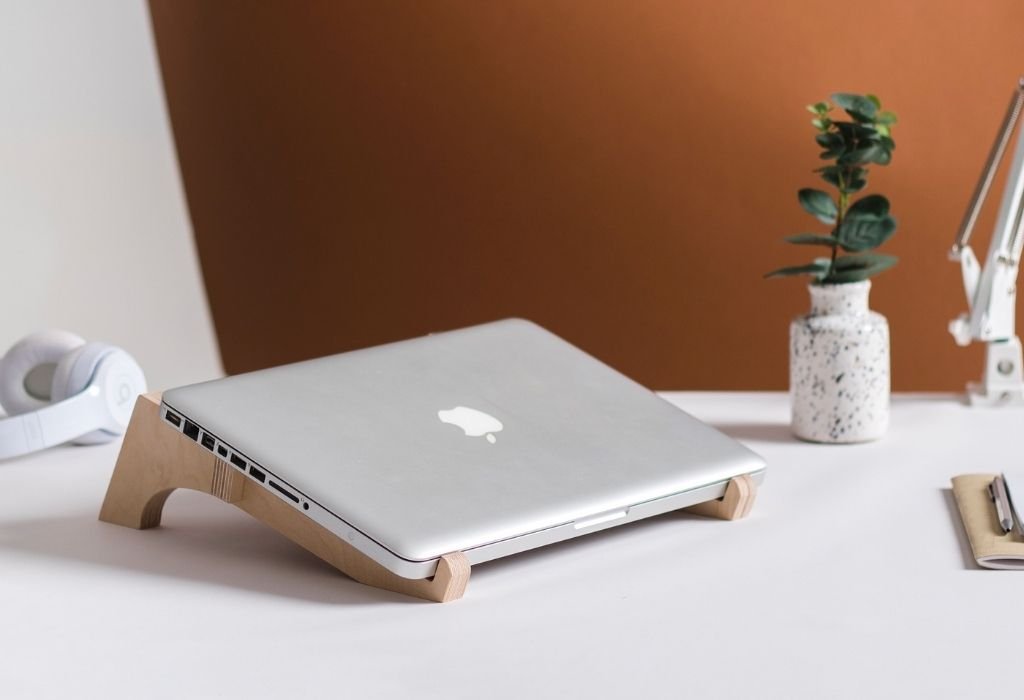 Finally, if you work or study with the tablet, we also have a stand that will make your life easier in this sense. Detablet is even a great help to place notebooks, books or ebooks and use them comfortably without having to hold them yourself.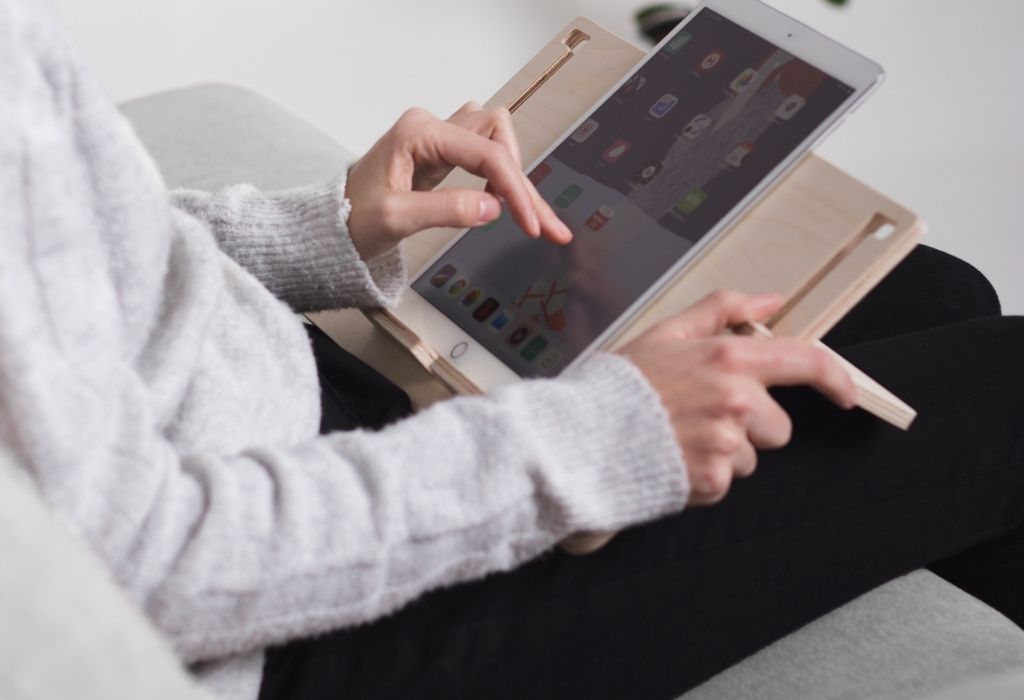 All these stands that we have shown to you to set up a sustainable and healthy office are from Debosc, a firm with multiple accessories for daily work hours made of sustainable birch wood. We recommend you take a look at its whole minimalist collection by clicking here.
If we talk about organization …
Having a workspace that you feel comfortable with, tidy, clean, and with the right accessories will help make your workday more enjoyable, feel more positive, and be more inspired. In this sense, some of the accessories that we recommend that you consider for your sustainable office are the desk and documentation organizers.
Organizi is as simple as it's functional. In it, you can place everything from pens and business cards to cables and the mobile. As it's made from cork, in addition to being sustainable, it's a resistant and durable desk organizer. If you look at our desk organizers section, you'll find other designs in materials such as wood and ceramic.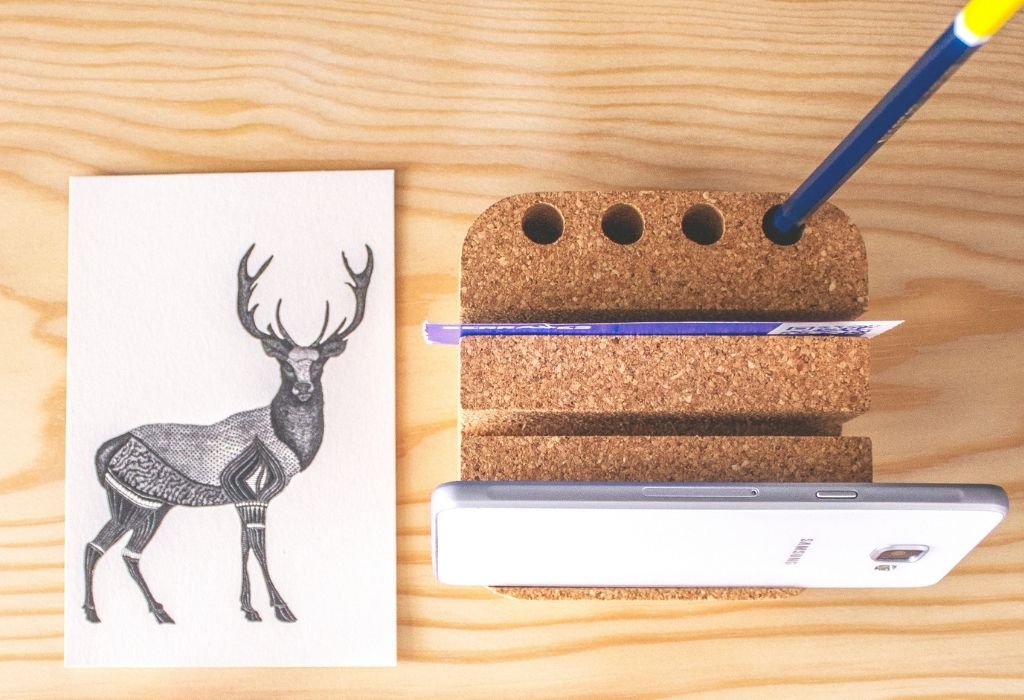 Lastly, we have two products to show you that have recently been added to our online store to help you keep your documents organized. The U File Cabinet and the Z Organizer are designed to place magazines, papers, notebooks or any document in A4 format. These designs are made of waxed beech wood and coated painted iron. They have a minimalist and delicate design, perfect for offices with a natural and simple appearance. The trays of the Organizer Z are piled together, optimizing space and being able to create vertical compositions.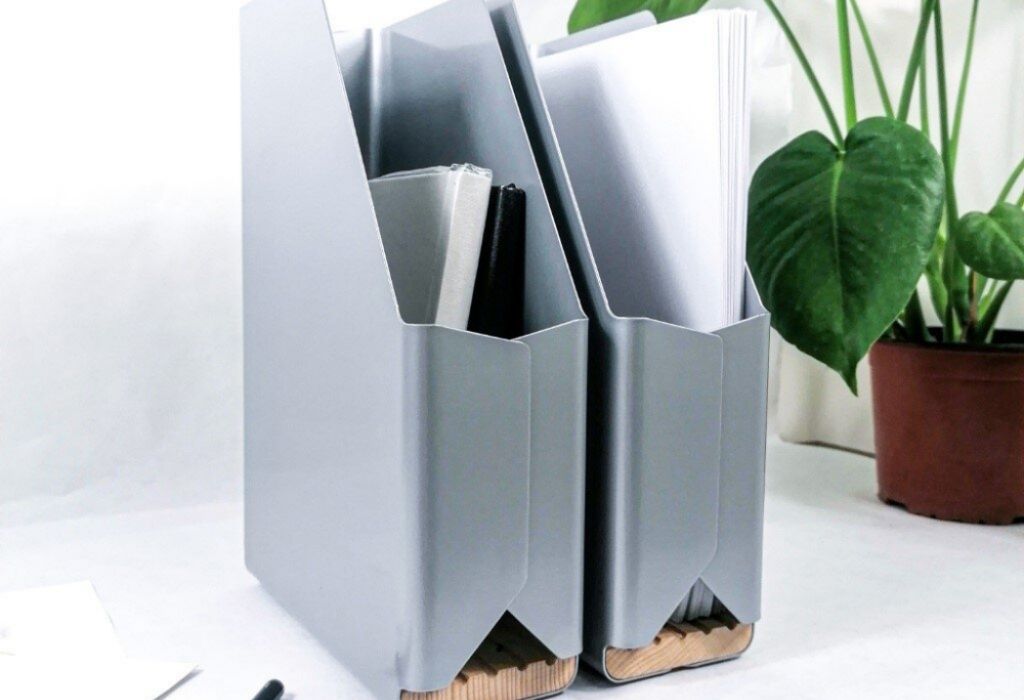 Everything you need for your sustainable office
Si este artículo te ha interesado, recuerda que en nuestra web puedes encontrar todo lo que necesitas para crear tu propia oficina sostenible, desde mobiliario, lámparas y estanterías hasta accesorios para los If this article has interested you, remember that you can find everything you need to create your own sustainable office on our website, from furniture, lamps and shelves to accessories for devices, decorative objects, and organizers of all kinds. The possibilities are endless in our online store. We invite you to know them.