Wood for life
Today, from Barcelona, in Poblenou, we bring you a company whose interest goes far beyond the simple activity of manufacturing and marketing furniture. The commitment and responsibility with which they carry out this activity clearly show a model based on sustainability for which we bet so much.
Today we talk to Likenwood about their company, their product and the commitment with which they carry out their business proposal.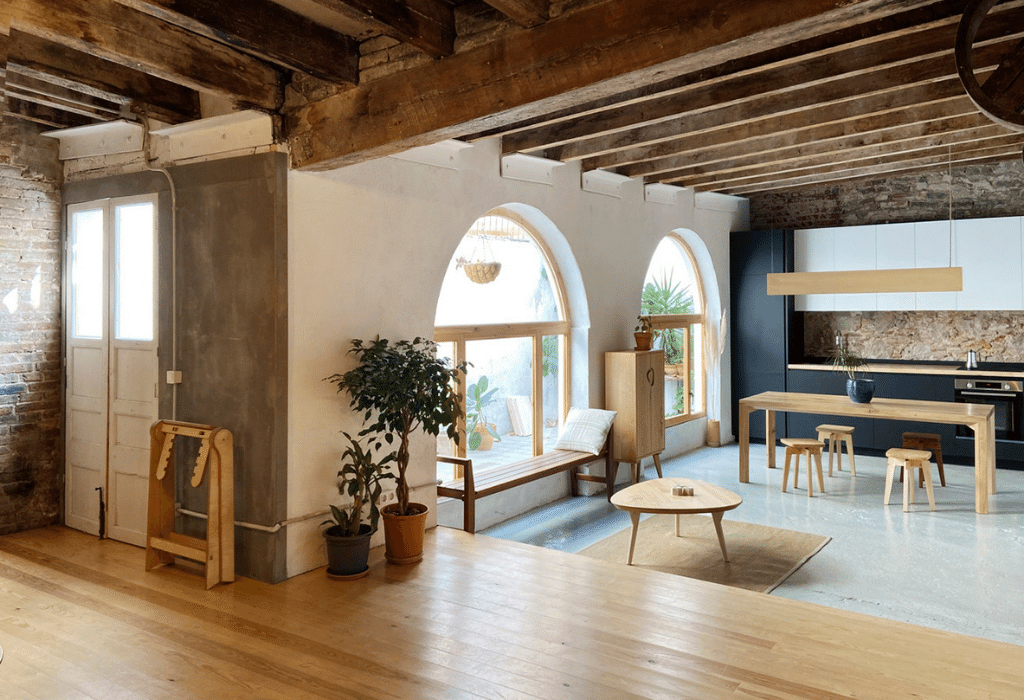 What is Likenwood, who are its members and what are its identity signs? What kind of product can we find in your company?
Likenwood is a startup born from the need to vindicate the value of furniture in the world of architecture and interior design, created by Anna and Miguel, a couple of interior designer and architect who share the passion of working with wood with their own hands. Anna, an interior designer by profession and nature lover, is the sensitive, artistic and dreamy part; Miguel, trained as an architect, is the one who gives the technical approach and brings mathematics to the design of likenwood.
Working in line with sustainability, using our own hands to carry out our designs, combining digital and manual manufacturing techniques, and above all, working with wood with respect and care are our differentiating factors.
The products you can find in our company are focused on consciously furnishing the home, creating pieces capable of lasting over time, not only for the quality of the solid woods we use but also for the evolutionary and transformable sense that many of the pieces offer, especially in our Aborigen collection. Then you can find accessories for the home, complements of a more personal nature and even decorative elements, all of which come from the use of the first waste in the manufacturing process of more oversized furniture. We also offer a complete range of products for furniture maintenance.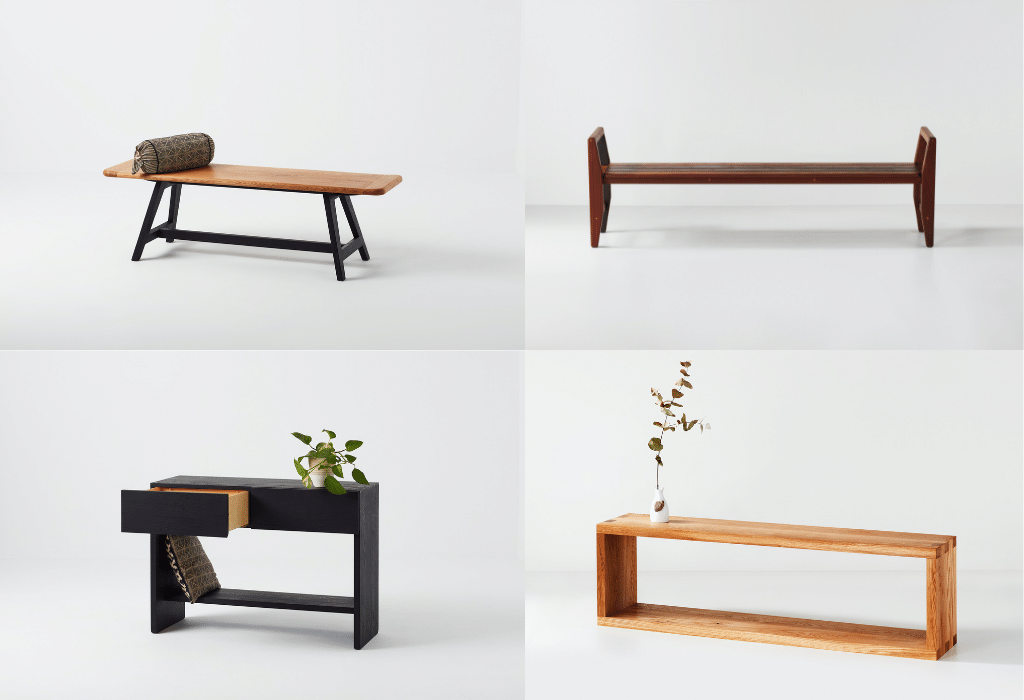 Why choose wood as raw material and primary resource for your designs, what advantages does it offer in your designs and your production process over other materials?
We like the idea of being able to make furniture that is able to last for many generations, but at the same time is made from renewable materials.
Wood, besides bringing warmth to any space, generates a close bond with our planet, makes us be connected to nature and is undoubtedly the most intelligent material.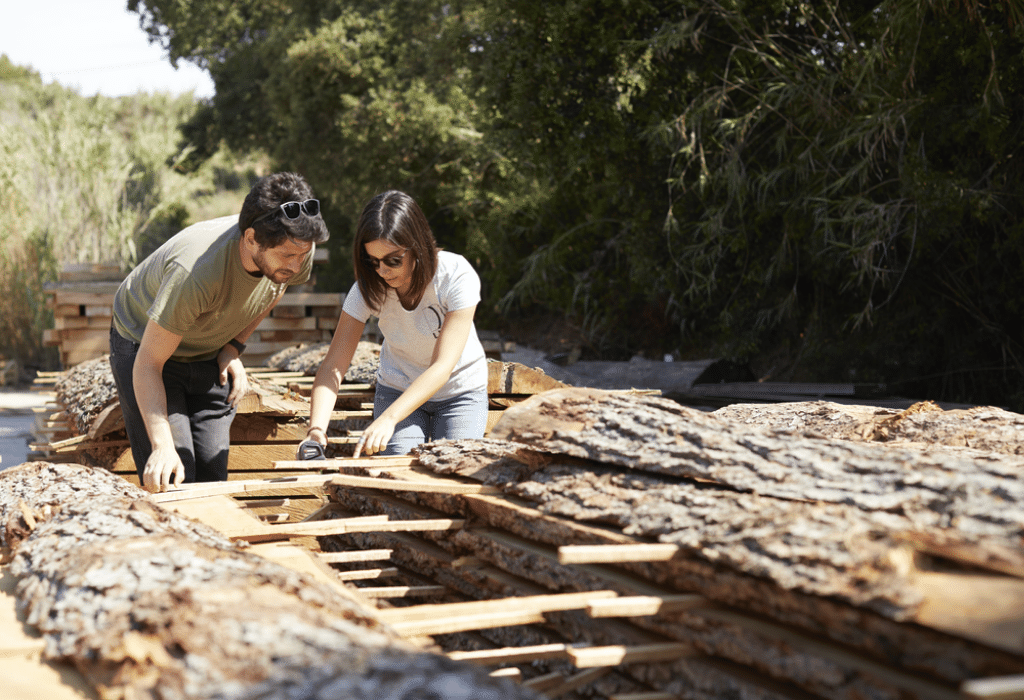 Which product lines are Likenwood manufactures, which of your product lines are your favorites, and which have been the most successful?
We manufacture furniture that primarily does not require installation; we are talking about single pieces such as tables, chairs, benches, nightstands, beds, lamps, auxiliary dining room furniture, etc.
It isn't easy to choose favorites when each piece has gone through such a vivid process of design, prototyping and evolution. However, we are especially delighted with furniture such as the Tendi lamp, the Tagoror chair or the Bertí table, the latter being our Best Seller.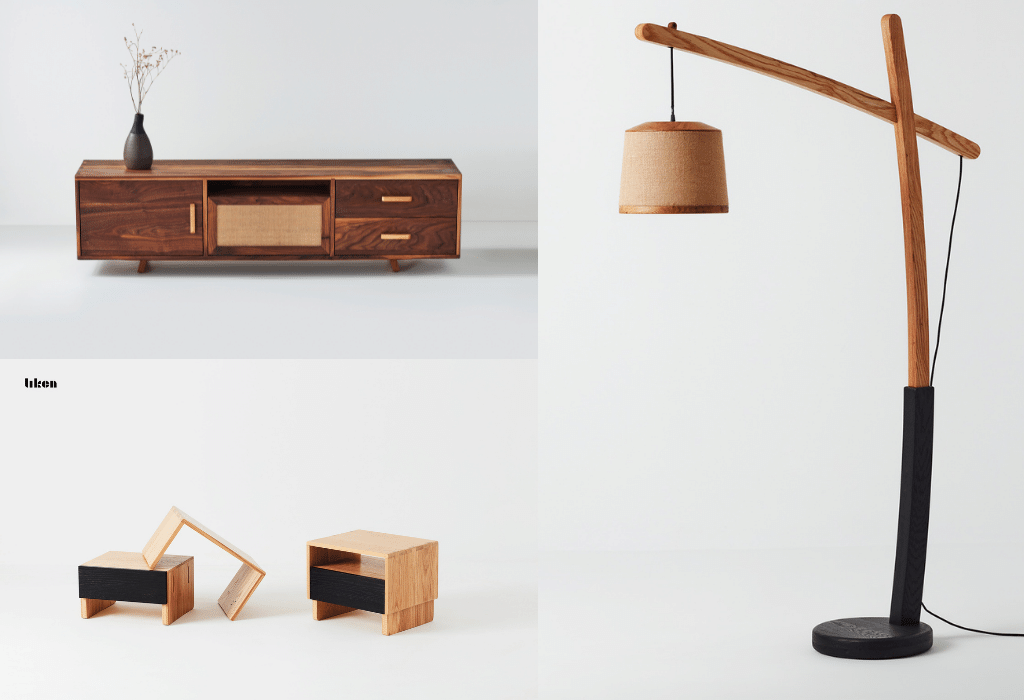 What kind of strategies has Likenwood adopted in its production process in choosing your raw material or any other to consider your furniture as sustainable? Does the production model, the final product, or previous processes have certifications that guarantee such sustainability?
We have gone through a time of maturation of our project, allowing us to generate a productive process that aims at zero waste.
Firstly, we purchase our raw material: wood planted in forests in Spain and Europe, taking special care to select species that have been planted for commercial exploitation purposes and can be certified by competent bodies such as PEFC or FSC.
Secondly, we design our furniture according to criteria of maximum material optimization, taking into account the optimum performance of the sections of wood produced in the sawmills from which we buy.
Thirdly, we manufacture ourselves with the criteria of a proximity trade: we make our products without outsourcing processes, use European manufacturing tools, and employ professionals and carpentry students trained in local schools. Fourthly, we use wood in its entirety through the creation of objects and accessories.
Our project, still at a very early stage, does not yet have the certificate to use the PEFC or FSC marking with an associated number; however, our suppliers have this certificate and send us the certification with every purchase of wood.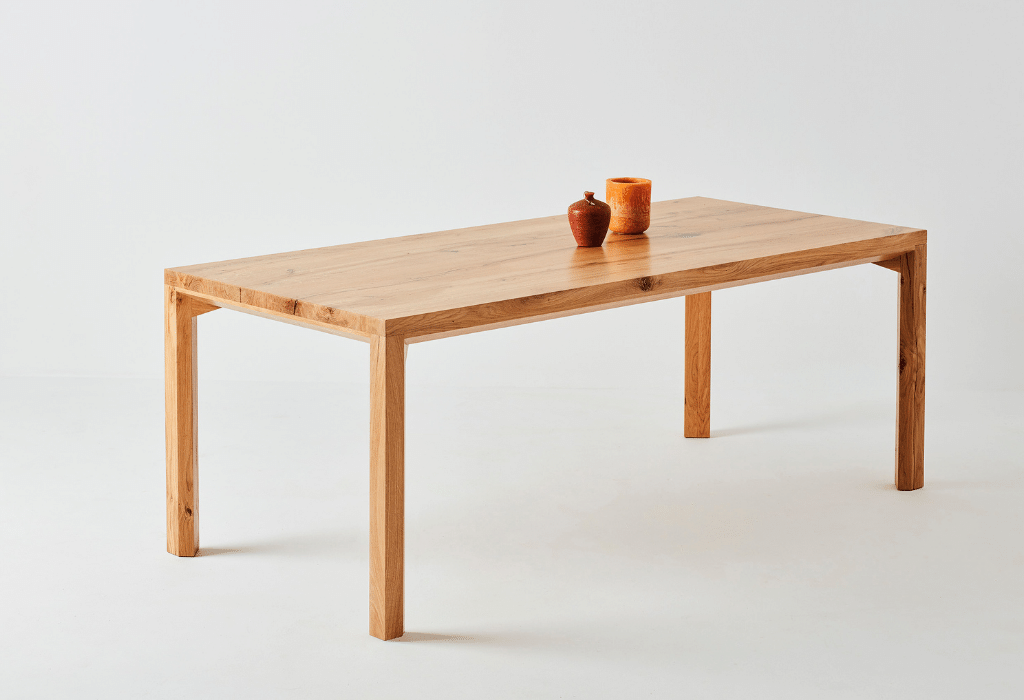 You produce in Barcelona from your own workshop. Why bet on local production when many large and small companies relocate production to Asian countries to reduce costs, and what are the advantages for you in this commitment to local production?
It is hard for us to imagine selling a conscious and sustainable product that is put in a container from Indonesia and unloaded in the port of Barcelona. For us, to be a sustainable company is to act primarily locally.
From an economic point of view, manufacturing in Barcelona costs us more money than manufacturing in other communities or other countries; however, we promote local employment and the promotion of training in the carpentry trade (almost extinct). From an ecological point of view, we reduce the carbon footprint produced by transportation from other continents.
The wood we use is planted in Spain and Europe in hardwood forests, leaving behind the favoritism for tropical woods.
From the technical point of view, we can guarantee the quality of the homemade product, the use of the best raw material, the proper selection of wood pieces, the use of VOC (volatile organic compounds) free chemicals and in general, a healthy working environment, which translates into a top-quality and sustainable product in all aspects.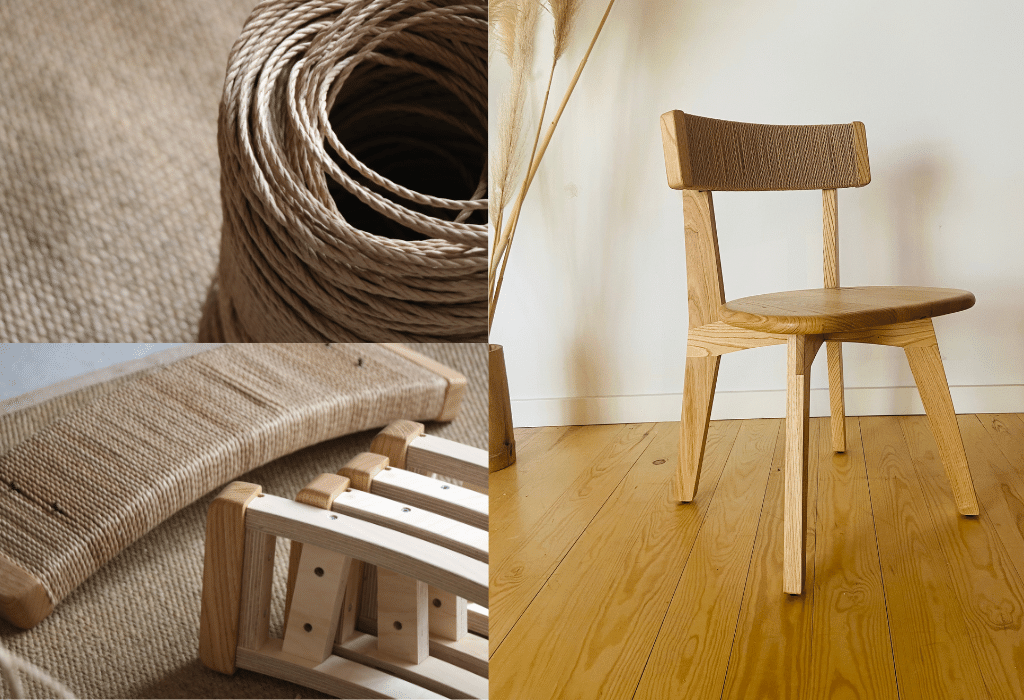 You are the ones who design all your furniture; in what style could we classify Likenwood furniture, where or in what do you get your inspiration to carry out the designs of your furniture line?
As designers and manufacturers, we do not have a preference for a particular style; however, we are attracted by simple design, which leaves in evidence values and the imprint of manufacture with its own character, the ethnic style, Nordic "mid-century", Japanese and Japandi (the combination of the last two) are our favorites.
We want to convey the importance of being in contact with nature in our designs. We have the impetus to show the beauty of the planet on which we live through pieces of furniture.
We also like the furniture to transmit beauty through the senses; when designing, we take care of the encounters between the surfaces of the furniture and its places of contact with the user, making the touch soft and pleasant.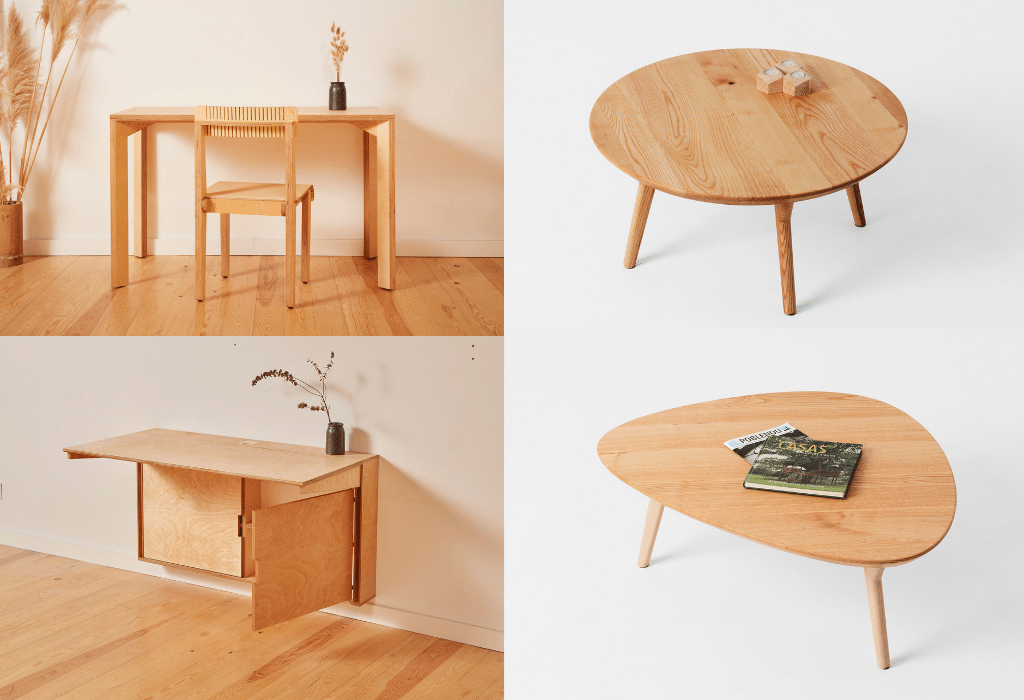 Likenwood promotes the maintenance of furniture through the application of various products that you market yourselves. What do these products give to our furniture, how should we apply them, and when should we carry out this maintenance that you talk about?
We believe that furniture is an asset; furniture had an important place in family inheritances in the past. Today, the habit of consuming furniture quickly and cheaply makes the furniture turnover very aggressive, to the point of notwithstanding a move.
We want the furniture to be seen again as objects of value, so it must always look alive. We offer a range of maintenance products that can be used without any knowledge of restoration or carpentry. We mainly use natural linseed oil to protect all furniture surfaces; it is a natural compound with a soft and pleasant smell that shows that the product is not harmful neither for the environment nor for the people who apply it.
The primary product for maintenance is a suitable cleaning soap.
We do not recommend using strong chemical products as these could remove a certain amount of oil at each cleaning, leaving the furniture unprotected in a short time.
We recommend cleaning the furniture periodically (at least two times a month) to avoid dust deposition and keep the surfaces alive.
Being treated with oil, there is a certain probability of stains appearing, typically when we leave a glass on the table without a coaster, after several hours of direct exposure to water in the same spot, the oil lets the moisture pass into the wood and the wood may react with a color change. In our maintenance section, you will find three types of stain removers, each formulated for different types of causative agents, such as water, wine, acid or grease.
Finally, it is recommended that, once a year, a coat of maintenance oil is applied to the furniture. This oil will bring life and reinforce the protective film of the wood. The interesting thing about this maintenance is that it is not necessary to sand the surface beforehand, as would be the case with a varnished piece of furniture so that it can be quickly done at home.
Likenwood also offers practical and theoretical workshops to all those interested in wood craftsmanship and manufacturing from this raw material. What do these "Workshops" consist of, is it necessary to have previous knowledge, are the means such as tools or the necessary utensils or raw material provided, where and when are they given, where can we get information?
We want to share our experience with wood to raise awareness about the value of craftsmanship, transmit the pleasure of working with it and share a pleasant moment with people who appreciate our work. The workshops consist of making an object from a wooden board or taking home a personalized product. We provide all the material and tools necessary to do so; it is not necessary to have experience; what matters to us is to show how it is done and help you learn how to make it yourself.
Currently, our offer of workshops is one object per month. Depending on the demand and the capacity of the course, they can be done up to 4 times a month as they are usually held on Saturdays in our workshop in Barcelona.
The information will be available on our social networks and our website.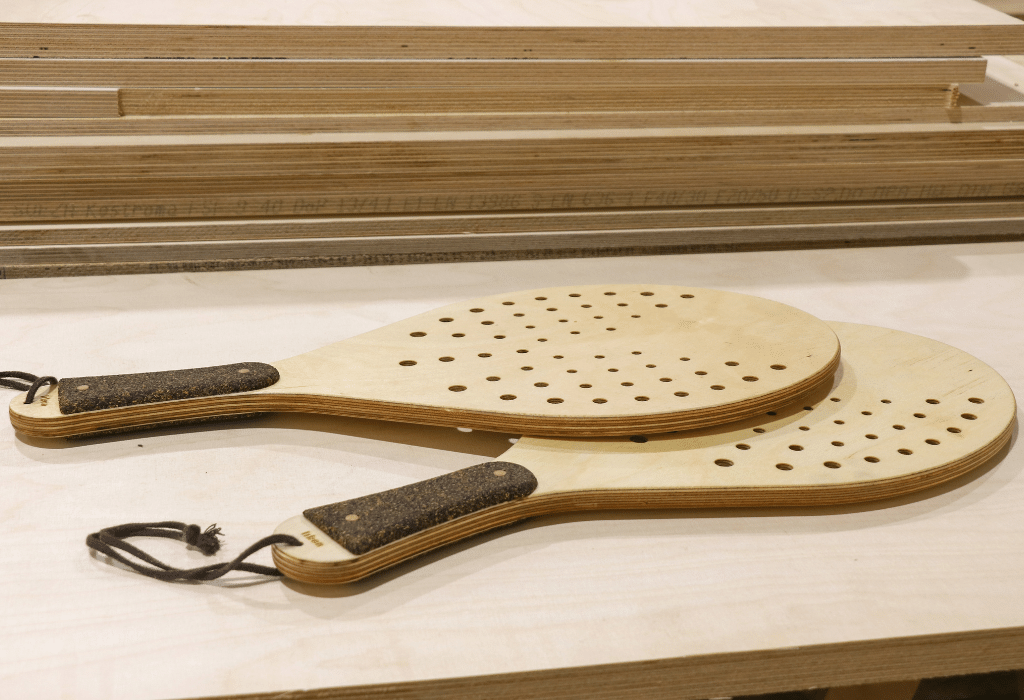 From each and every one of these processes that lead to the final product, Likenwood furniture, arises, as in any production process, waste, leftovers, residues. How does Likenwood deal with the treatment of this remaining fraction derived from its activity? How is all this leftover raw material used?
When we work with plywood, we try to optimize the cutting to the maximum; the offcuts of this material are not suitable to be used as firewood, so a waste management company manages them.
As for the manufacture with solid wood, we have managed to optimize and use the material in its entirety: the first residue (short pieces of wood) is used to manufacture accessories, the second residue (strips, cuttings, woodblocks), being clean wood of glues and varnishes, is used by restaurants as firewood and the third residue (sawdust) is donated to urban gardens for the creation of compost and substrates.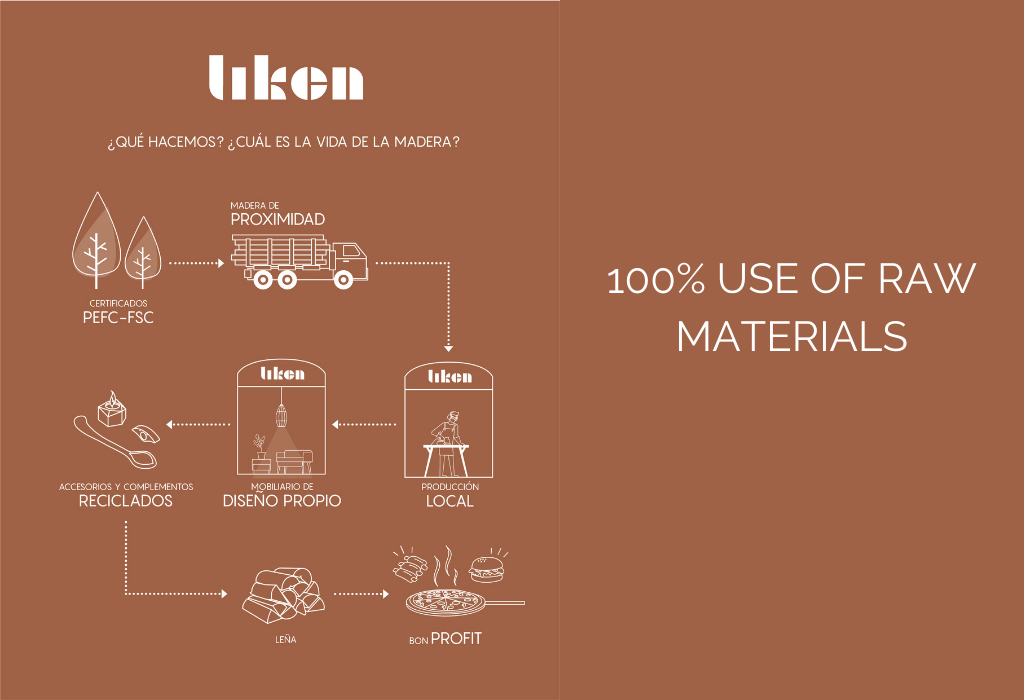 There is no doubt that this is a company that has been able to combine, as the best, quality and commitment in a final product, its furniture, stylish and elegant, which also shows the social responsibility that is so necessary nowadays.
Visit their store at Ekohunters and find the Likenwood furniture that best suits your needs.