Sustainable dining tables are the stars of the dining room as sofas are of the living room. In them countless social and personal encounters take place to later become memories. Dining tables are sacred places and as such must be carefully selected and cared for. If you're here it's because in addition to evaluating buying one of them, you want to do it in an ecological way. We'll tell you what you can take into account when choosing sustainable dining tables that adapt to your preferences and the needs of your home.
1. The material
The material of sustainable dining room tables is related to several aspects, from aesthetics and decorative stamp, to resistance. For example, sustainable dining tables made of wood allude to nature and convey a feeling of warmth. Wood is characterized by being a highly durable material, it can resist even more than a century. In terms of sustainability, wood is reusable, biodegradable, naturally regenerated, doesn't need chemical or energy processes and is non-toxic. At Ekohunters we've many sustainable dining tables made with wood that you can take a look at by clicking here.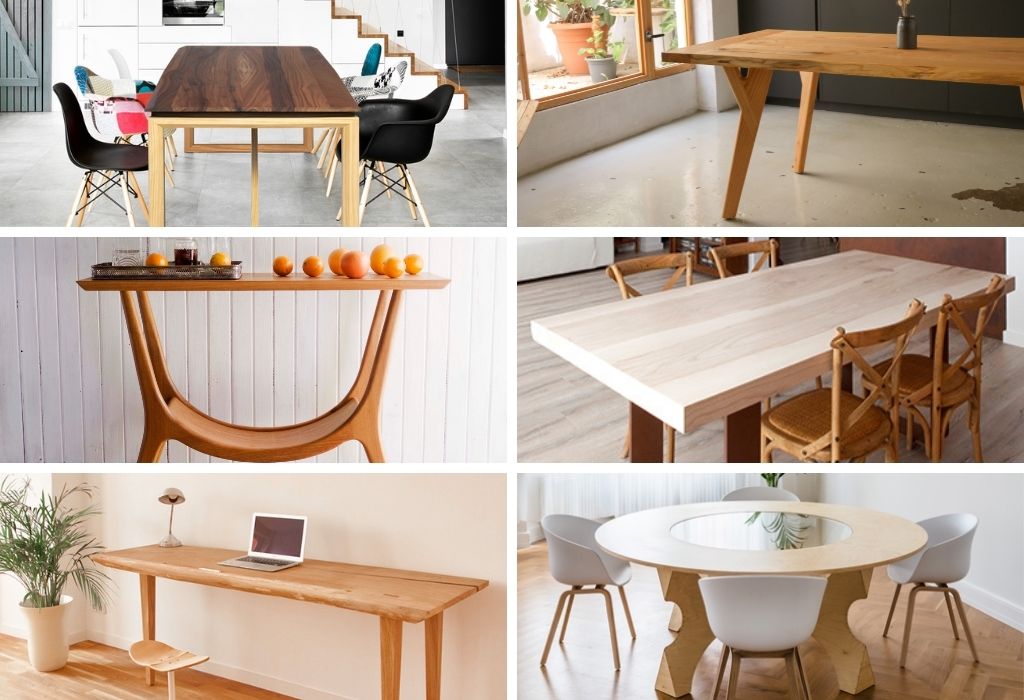 The glass tables are lighter, more sophisticated and cooler than the previous ones. As the light hits them, the characteristics of the material vary, and it can be perceived as more or less opaque. As it's a transparent and neutral material, its appliances are multiple, even being able to be combined aesthetically and strategically with other materials, such as in the Nemo table, where birch wood is connected to a tempered glass plate, responsible for creating a light and airy impression. Or as in the case of the Thinking table, with its original oak wood trunk base.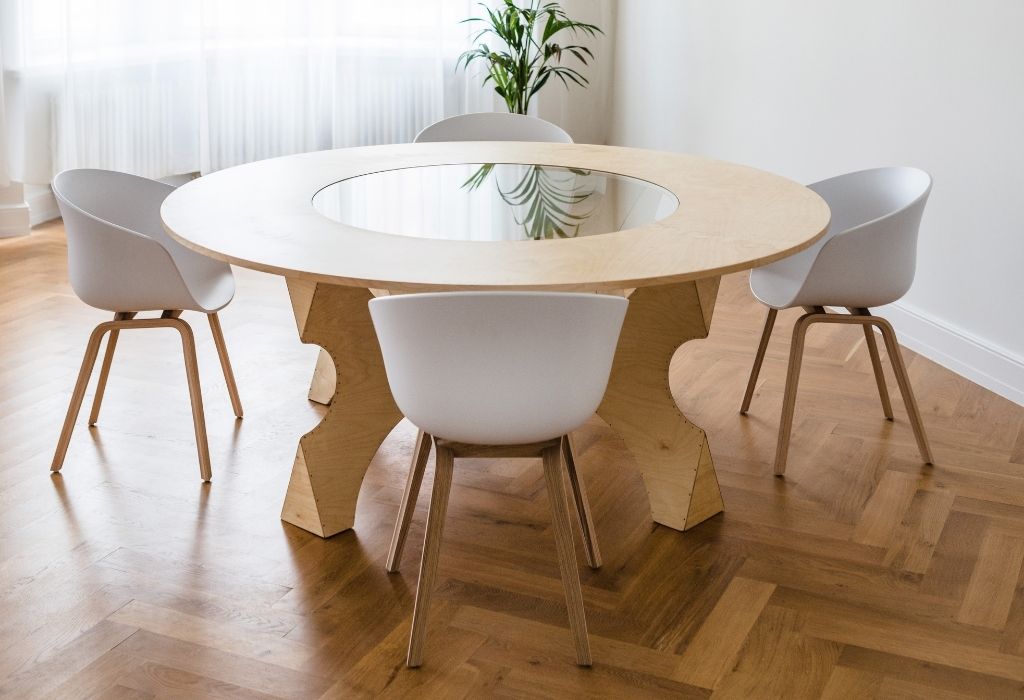 2. The design of sustainable dining tables
This point is important and will depend on the needs and possibilities of the space where you want to place the table. The round sustainable dining tables are ideal for small spaces thanks to their no-corners because this makes the passage more fluid, but they're also perfect in larger spaces where there is a soft decoration and a feeling of closeness is sought. The latter is due to the fact that these types of tables favor communication as all the diners are more integrated and face to face with each other. This is the case of the Tagoror table, whose name refers to that meeting place where members of a community meet to talk and make great decisions. This treasure is available in up to four different types of wood.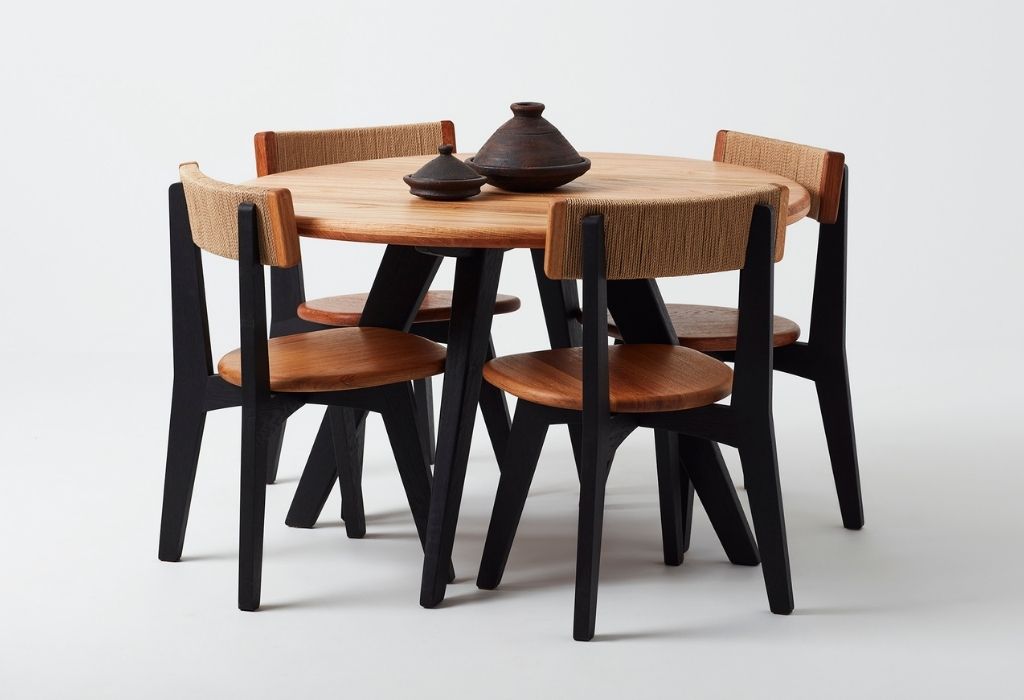 Another of our sustainable dining tables that is also available in four different types of wood is the Dolmen table. It's a rectangular design with sharp angles and semi-rounded corners. It can be purchased in 5 different sizes and with up to 5 different finishes for the table base. The rectangular tables are perfectly adapted to dining rooms from the most classic to the most modern. They're perfect to put them close to the wall and save space, use them as islands or large tables where meetings tend to be massive. Of course, remember to leave at least one meter free between the table and the next piece of furniture to ensure a fluid passage.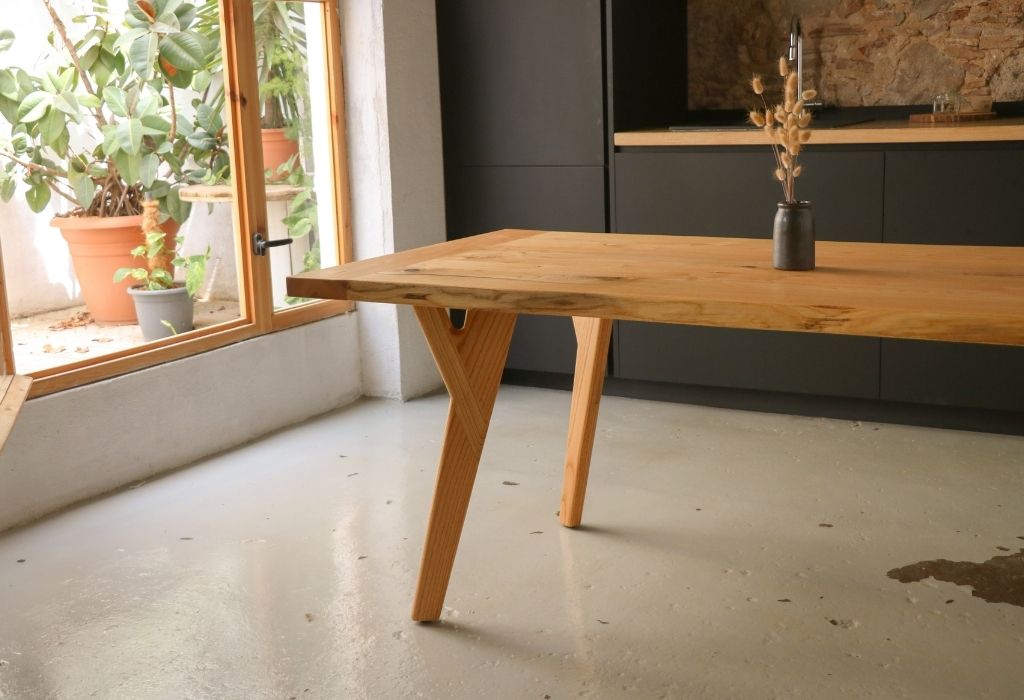 Another design that is often seen on tables is the square format. Square sustainable dining tables are the ones that need the most space to show off without disturbing. They're perfect for large and square dining rooms where a symmetrical decoration is sought. Like the rectangular tables, they've got the possibility of staying close to the walls to save space. Take a look at the Creba table, its mission is to show the beauty that lives in the contrast and the combination of different types of wood. It's a true collage of veins and colors, 100% customizable on both the surface and the base. Discover all its material variables here.
There are no tables without chairs
L
Preferences, requirements and possibilities may vary from home to home, but what will never vary is the need to accompany the tables with chairs. It's not something that can be debated, it's an unavoidable mix & match and at Ekohunters we've several models of sustainable and eco-designed chairs to introduce you to. Discover them and delight yourself with them from here.